Fire Fighting Hose Reels combine strength, safety, ergonomics.
Press Release Summary: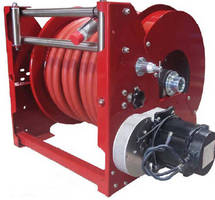 Customizable to end-user requirements, T Series handles various hose sizes, lengths, and pressures. Baked-on, flame-red powder coat or hot dip galvanizing finish provides barrier to withstand conditions encountered in fire fighting applications. Fabricated from welded, heavy gauge, 3 mm steel plate for rigidity and strength, reels come in power, hand, and spring rewind models. Heavy-duty welded spool allows hose to be wound charged or uncharged.
---
Original Press Release:

Fire Fighting Reels for All Industries



Strong, safe and ergonomically sound hose reels have been developed by ReCoila for fire fighting in rural areas and most industries including energy, mining and resources, marine and ships, heavy industrial, transport, emergency services and capital works.



The most recent model in the Recoila T Series has an electromechanical clutch and speed reducer for greater performance in the field.



With all these fire fighting units able to be customised, they can be supplied according to specific needs of the end user.



The T Series also handles a multitude of hoses sizes, lengths and pressures. It has a frame and spool that offers easy access for the maintenance and service when that is required.



Even the finish coating on the units, a high-quality baked on flame red powder coat or a hot dip galvanising, provides a barrier to withstand tough conditions of fire fighting.



Models in the T Series reels are of metal construction – power, hand and spring rewind – that are very customisable for many requirements such as transfer of fuels and lubricants, general fluid handling, large truck servicing, watering, high-volume compressed air, food transfer and fire-fighter services.



All items in this range of reels are fabricated from welded, heavy gauge 3mm steel plate to ensure rigidity and strength. Made in carbon steel, stainless steel 304 and 316 or aluminium, the T Series includes a heavy-duty spring-loaded pin lock.



The T Series has a heavy duty welded spool allowing the hose to be wound 'charged' or 'uncharged',  so it ensures there is no crushing effect if charging of an empty hoses need to be carried out on the reel.



To prevent over-spooling, a standalone friction brake allows the operator to preset sufficient friction.



The T Series uses a direct drive method of gear to gear, therefore reducing maintenance costs associated with chain drive system alternatives.



Rewind speeds have been designed to maintain acceptable and controlled rewinding of the hose while maintaining sufficient torque to rewind a fully charged hose.



Available in right-hand or left-hand configurations, T Series units have an optional auxiliary bevel crank drive with disengaging drives. The ability to engage and disengage the bevel crank drive reduces wear on the drive system, reduces noise and residual torque required to drive the traditionally engaged rewind system.



The crank connection point has been designed to allow the operator to rotate the crank drive from different angles.



Stainless steel roller guides are available, and the main axle is machined from stainless steel to maintain strength and rigidity while preventing corrosion. Stainless steel fasteners are used where applicable.



Full flow high-volume fluid paths are standard on all T Series reels. Large ID fluid paths such as two inch and above are available for models that are designed for hoses of those respective sizes. Standard working pressures of 800psi can be increased up to 10,000 psi on request.



Construction and fluid paths are available in stainless steel, mild steel, brass or a combination of the above. A high-quality baked on powder coat finish is provided giving three layers of corrosion protection for up to 1000 hours salt test.



ReCoila T Series reels are available with 12-24 VDC rewind motors, 240 VAC rewind motors, hydraulic rewind, pneumatic rewind, reduction drive bevel crank and hand crank options.



For more information, please contact

Mr Michael Pawson

Managing Director

ReCoila

Unit 1/10 Melissa Place

Kings Park

NSW 2148

Email: mpawson@recoila.com

www.recoila.com



Written and prepared by Omentum Media Australia.

Val Pavlovic: 0413 869 589, mob: 0413 869 589.

email: admin@omentum.com.au

More from Packaging Products & Equipment