Fire Department Removes Competing Systems and Upgrades to Plymovent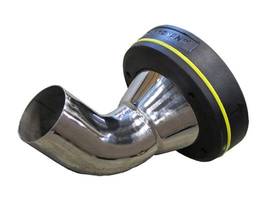 Cranbury, NJ – Prior to Plymovent, White Springs Fire Department (FD) installed another manufacturer's hose based exhaust removal system. And due to a variety of issues with the system such as faulty installation, poor service, inadequate system performance and safety concerns, White Springs FD upgraded their exhaust removal system to Plymovent in less than one year.
One major issue White Springs FD firefighters encountered before switching to Plymovent was having difficulty in disconnecting the system from the vehicle's tailpipe. The system repeatedly pulled off the elbow, emitting toxic diesel exhaust fumes back into the facility. According to Assistant Fire Chief Jeffrey McGuigan, firefighters also complained about having to bend over to hook up the nozzle to the tailpipe and out of frustration would stop using the system.
Air Cleaning Systems of NY (ACS), the authorized Plymovent distributor for this area, immediately visited White Springs FD, presented the Plymovent code-compliant vehicle exhaust removal systems and because of the superior quality product that Plymovent offers and 3 decades of installing and servicing systems that work by ACS, Air Cleaning Systems of NY retrofitted the station with Plymovent. The results have been spectacular and the personnel at White Springs FD have been extremely pleased with the Plymovent product and ease of use. "There's no need to bend over and hook up the system, which is how it should be, safe and simple", says Assistant Chief McGuigan.
With 25-30 members, the White Springs FD of White Springs, New York is an all-volunteer department. Out of the three fire departments in town, White Springs FD has the highest call volume covering commercial and residential neighborhoods. Since installing Plymovent vehicle exhaust removal systems benefits include but are not limited to: a healthier work environment by minimizing the exposure to hazardous diesel exhaust and gasses from old and new vehicles; a cleaner work environment; excellent customer service and the convenience of the easy-to-use "Click and Seal" system connection.
To read the full case study, please visit: http://www.plymovent.com/us/vehicle-exhaust-extraction/references/white-springs-fire-department
About Plymovent For more than 40 years we have made it our business to ensure clean air in fire stations. We provide high-quality products to protect firefighters, EMS personnel and others from exposure to hazardous diesel exhaust. From existing stations, to new turnkey facilities, our totally automatic start-up and disconnect source capture systems are the recommended method for controlling exhaust emissions at your station.
For more information please contact us at www.plymovent.com.
Plymovent Corp.
Kerry Falzone,
Marketing Coordinator
5 Corporate Drive
Cranbury, NJ 08512 USA
T: +1 609 395 3525
F: +1 609 655 0569
E: kerry.falzone@plymovent.com