Finishing Tool compensates for irregular part patterns.
Press Release Summary: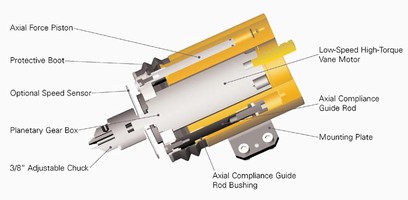 Mounted to robot or CNC machine, Flexfinish(TM) axially-compliant finishing tool features floating motor and spindle arrangement, vane-type air motor, and remotely-adjustable air pressure. Rotating spindle is equipped with 3/8 in. chuck to hold variety of finishing devices. Weighing 7.25 lb and requiring 390 W power, motor maintains working spindle speed of 2,600 rpm and compliance force is 3.2-16.7 lb at 5-60 psi air supply pressure.
---
Original Press Release:

Flexfinish(TM) Added to Complete Line of Robotic Deburring Tools



Flexfinish(TM), an axially-compliant finishing tool ideally suited for robotic and non-robotic material finishing operations on aluminum, plastic, steel, etc., is available from ATI Industrial Automation, Apex, N.C. The robust, low-speed, high-torque finishing tool has a unique "floating" motor and spindle arrangement that provides the finishing tip's axial compliance to perform consistently on irregular part patterns.

The Flexfinish(TM), mounted to a robot or CNC machine, has a vane-type air motor with gear reduction providing a long service life with exceptional power. Remotely-adjusted air pressure controls and maintains the constant axial force on the floating spindle allowing users to compensate for deviations in the part's profile. The rotating spindle is equipped with a 3/8-inch chuck to hold a variety of finishing devices, including abrasive and wire brushes, sanding disks, polishing points and chamfering tools, among others.

The motor maintains a working spindle speed of 2600 rpm and the compliance force is 3.2-16.7 pounds at air supply pressure of 5 - 60psi. The entire tool weighs only 7.25 pounds and requires 390W of power at working speed. The axial motion of the spindle allows for fast and simple programming in robotic applications. Optional sensing devices are available to detect the spindle speed and forward and retracted spindle positions. All units have a forward sensor that detects the tools engagement with the workpiece.

Robotic finishing using ATI's Flexfinish is an excellent solution for the most challenging jobs. The compliance built into the tool inherently provides the needed answers to work-piece tolerances and robot inaccuracies that have plagued other robotic techniques. Flexfinish permits robots to succeed by giving manufacturers more choices in finding solutions for their specific edge finishing needs.

For more information about Flexfinish and other deburring tools, contact
ATI Industrial Automation, Pinnacle Park, 1031 Goodworth Drive, Apex, NC 27539, phone 919-772-0115, fax 919-772-8259, www.ati-ia.com.