Finishing Machine includes dividers to protect parts.
Press Release Summary: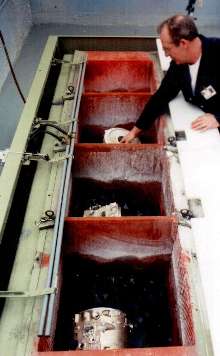 End-discharge, automated, vibratory finishing machine Model V-34 features 4 compartments that protect parts from damage. It measures 17 ft long and has 34 ft³ capacity. Compartments of U-shaped, urethane-lined tub are created by removable dividers that allow parts up to 24 in³ to be in tub at same time. Variable amplitude of machine provides adjustment range of 1/64 to 1/4 in. on horizontal shaft vibrator.
---
Original Press Release:
Dividers Prevent Damage to Metal Parts In End-Discharge Finishing Machine From Almco

ALBERT LEA, Minnesota (September 23, 2003) - A high-production, highly automated vibratory finishing machine with four compartments that protect parts from nicks, scratches and other damage during the finishing process is now available from ALMCO, Inc.

The end-discharge Model V-34, designed and manufactured initially to meet a specific customer's requirements, measures 17 feet long and has a 34-cubic-foot capacity. Compartments of the U-shaped, urethane-lined tub are created by removable dividers that allow parts of various configurations and sizes up to 24 cubic inches to be in the tub at the same time without fear of impingement.

For a complete finishing system, ALMCO offers automated material handling equipment with an oscillating device that separates parts from abrasive media at the end of the finishing cycle. Other automated equipment can be added to separate reusable from worn media after a specified period of time.

Special features of the V-34 are numerous. Discharge of media from the vibratory tub, for example, is accomplished with an air-operated door that allows it to flow from the tub to the media separator, without worker involvement. Variable amplitude of the machine, including an adjustment range of 1/64-inch to 1/4-inch on the horizontal shaft vibrator, provides versatility in part processing.

An ALMCO-patented water spray system injects water into the tub to keep finishing media clean and free-cutting while fines and other contaminants are flushed through drain plates at the bottom of the tub. A remote, electric motor on the variable-speed drive unit allows changes in vibration frequency, simply by pressing a button.

For further information on the V-34 and accessory equipment, contact ALMCO, Inc., 507 West Front Street, Albert Lea, Minnesota 56007, phone 1-800-521-2740, or visit the company on the Internet at www.almcoinc.com. Machines and complete systems from the 60-year-old manufacturer and international marketer are sold through a worldwide network of independent distributors, sales representatives and ALMCO region managers.