Pressure Sensors / Detectors / Transducers
Fingertip Sensors measure difficult-to-gauge pressures.
Press Release Summary: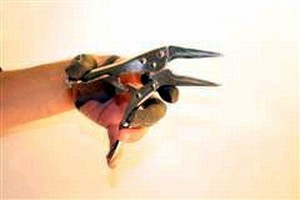 Worn on person's fingertips and palm, FingerTPS(TM) measure pressure exerted while person uses tool or performs some other action. Based on capacitive sensor technology, units measure pressures up to 10 lb in 0.1 lb increments. Sensors are less than 2 mm thick and are mounted in stretchable fabric for snug fit on user's fingers. USB-powered for Windows PCs, systems are supported by PC-resident software, which displays and tracks time-series, avg, and peak pressures.
---
Original Press Release:

New Pressure Profile Systems Devices Put Sensors at Designers' Fingertips



Applications range from product design, to recording artists at work, to providing an objective measure of pain

Los Angeles, Calif. (July 5, 2006) - Pressure Profile Systems, Inc. (PPS) today announced a new line of "fingertip" sensors that can measure pressures which are difficult to gauge by conventional means. Named FingerTPS(TM), the tactile pressure sensors are designed to be worn on a person's fingertips and palm, and to measure the pressures exerted while the person uses a tool or performs some other action.

Applications are expected to be as diverse as product design (designing tool handles, medical instruments, or a better mouse), recording a pianist playing his own composition, and training medical health practitioners in the proper palm or finger pressures to apply for infant CPR.

FingerTPS could also quantify what has always been an entirely subjective measurement - pain - by objectively determining the sensitivity of injured tissues to touch, as might be done for burns.

Based on capacitive sensor technology, FingerTPS sensors are capable of measuring pressures up to 10 pounds in 0.1 lb increments. Less than 2mm thick, they are mounted in stretchable fabric for a snug fit on the user's fingers.

The systems are USB powered for Windows PC's and supported by PC-resident software which displays and tracks time-series, average, and peak pressures in easy to read color graphics.

Currently available only as a research and development kit, users can choose to have up to four finger and palm sensors for each hand. In addition to the sensors, the systems contain a sensing circuit, USB interface, and the software.

Price and Availability
Evaluation kits are priced from $2,995 for a single-hand system with two sensors . Prices for a two-hand evaluation kit begin at $3,995. Additional sensors can be added for $495 each. Integration of the fingertip sensors into task-specific gloves is offered on a custom order basis.

About Pressure Profile Systems
Pressure Profile Systems, Inc. (PPS) develops high performance capacitive sensor systems for measuring distributed tactile and contact pressures with high accuracy. PPS' instrumentation systems and OEM components have helped customers to optimize manufacturing processes and create new products with a "sense of touch" in medical, robotics, industrial and consumer fields.

PPS' tactile sensing technology was originally developed at Harvard University and subsequently enhanced through funding from the Defense Advanced Research Project Agency, Army Research Laboratory, and National Institutes of Health. For more information on Pressure Profile Systems, its products and their applications, visit our website at www.pressureprofile.com.

Customer Contact:
Dr. Jae Son
Pressure Profile Systems
310.641.8100
jaeson@pressureprofile.com

More from Cleaning Products & Equipment