Fine Boring Tool provides optimized chip control.
Press Release Summary: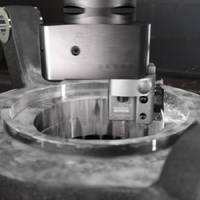 For trouble-free machining and close hole tolerances of IT6, CoroBore® 826 utilizes high-precision nozzle to direct coolant jet to cutting edge, efficiently controlling and breaking chips which are then evacuated from hole. Stepwise scale setting of tool diameter optimizes process security and eliminates setting mistakes, while rigid interfaces between head and cartridge ensure stable and vibration-free boring. CoroBore 826 HP meets fine boring requirements from 1.417–49.606 in.
---
Original Press Release:

Sandvik Coromant Introduces a New High-precision Coolant Solution for Fine Boring



Sandvik Coromant has taken another step in the development of fine boring technology by introducing CoroBore® 826, a groundbreaking high-precision (HP) coolant tool for trouble-free machining and close hole tolerances.



Machine stops caused by chip tangling around the tool or spindle are a common problem in fine boring. With the high-precision nozzle, CoroBore 826 HP directs the high-precision coolant jet to the cutting edge in order to efficiently control and break the chip. Chips are then easily evacuated from the hole.



Combined with the user-friendly stepwise scale setting of the tool diameter provides the perfect tool for accurate fine boring.



CoroBore 826 HP is the ideal first choice fine boring tool for requirements in the range of 36–1260 mm (1.417–49.606 inch). It is optimized for process repeatability, hence ensuring excellent surface finish and close hole tolerances.



To make it easier for users to find the optimum CoroBore 826 HP fine boring solution for their particular requirement, Sandvik Coromant has introduced assembly kits for a wide range of hole diameters. The integrated Coromant Capto® solution is ideal for small diameter boring of 35.45-91.65 mm (1.396-3.608 inch), while the optimal choice for diameters in the range of 91.35-154.65 mm (3.596 -6.089 inch) is a modular solution with internal counterweight. For large diameter boring, 154–1260 mm (6.063–49.606 inch), a separate fine boring head can be combined with the flexible CoroBore XL system based on specific machining needs.



Find out more at www.sandvik.coromant.com/en-us/products/news/Pages/default.aspx#new-boring-tools.



Video Link: https://www.youtube.com/watch?v=g7_fRTz-m4w.



Sandvik Coromant

Part of global industrial engineering group Sandvik, Sandvik Coromant is at the forefront of manufacturing tools, machining solutions and knowledge that drive industry standards and innovations demanded by the metalworking industry now and into the next industrial era. Educational support, extensive R&D investment and strong customer partnerships ensure the development of machining technologies that change, lead and drive the future of manufacturing. Sandvik Coromant owns over 3100 patents worldwide, employs over 8,000 staff, and is represented in 130 countries.



For more information visit www.sandvik.coromant.com or join the conversation on social media.



Contact details for editorial enquiries

Contact: 

Steffen Sander

Tel: +12013107363           

Email: steffen.sander@sandvik.com



www.sandvik.coromant.com





More from Fluid & Gas Flow Equipment