Filtration Valve Assembly suits scientific/medical devices.
Press Release Summary: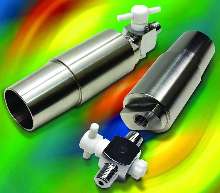 Filtration Valve Assembly has receptacle precision machined from solid stainless steel stock to 4.250 in. long x 1.625 in. dia. Chrome-plated brass valve body, measuring 1 in.², has 18° cross-hole machined through it. Mating tapered Teflon stop-cock is ground to 18° to match angle bored into valve body to within 0.025°. Assembly also includes Teflon washer and nut.
---
Original Press Release:
Complex Scientific And Medical Device Assemblies Precision Machined To Custom Specifications By Marshall Manufacturing Company

Minneapolis, Minnesota: Scientific/medical components and assemblies used in pharmaceutical water processing systems, centrifuges, and fluid filtration and purification systems, are precision machined, assembled and tested by Marshall Manufacturing Company, an ISO certified manufacturer of scientific and medical components.

Filtration Valve Assembly Has Machined Stainless Steel Receptacle, Chrome Plated Brass Valve Body, And Teflon Stop-Cock, Washer And Nut

The receptacle is precision machined from solid stainless steel stock to 4.250 inch length x 1.625 inch diameter. The 1-inch square valve body portion of the assembly, made of chrome plated brass, has an 18 degree cross-hole machined through it. A mating tapered Teflon stop- cock is ground to 18 degree to match the angle that is bored into the valve body to within 0.025 degree.

The processes Marshall provides for the brass component of the assembly includes turning, milling, boring, tapered boring, threading and chrome plating. The Teflon stop-cock, washer and nut are machined complete by Marshall. The components are then assembled and tested.

Complete Medical Component Assembly/Machining Capabilities

Marshall Manufacturing offers precision machining of most materials including steel, stainless steel, titanium, aluminum, brass and most plastics. The company is equipped to provide a wide range of complex precision machining services. These include complete CAD/CAM design, CNC Swiss machining, CNC horizontal and vertical machining, CNC turning, precision small diameter tube and rod bending, multiple spindle drilling (up to rows of 78 holes), dual-sided lapping, polishing, stamping, packaging and SPC programs with complete lot traceability.

Marshall Manufacturing provides precision machining processes that are FDA compliant, ISO 9001:2000 certified, and meet or exceed General Machining Practices (GMP). Closely managed documentation control allows for consistent reliability with every order.

Incorporating advanced manufacturing techniques such as integrated machine operations and cell manufacturing, Marshall Manufacturing provides unparalleled quality, efficiency and on-time delivery.

For more information, call 1-800-321-6727 or visit www.marshallmfg.com

Or write to Marshall Manufacturing, 3820 Chandler Drive, Minneapolis, Minnesota 55421. Fax: 1-800-321-6728. Email: general@marshallmfg.com
More from Health, Medical, & Dental Supplies and Equipment