Filtration System offers automated flushing and filling.
Press Release Summary: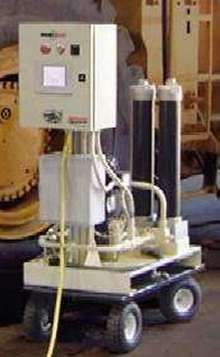 Filtration Station(TM) provides particle monitoring and can print ISO cleanliness reports. Through use of interactive touchscreen, self-contained unit fills measured volume of flushing fluid, circulates and filters, and drains hydraulic system, component, or circuit. During all operations, it provides on-screen analysis of fluid's changing cleanliness levels in real time. Portable unit removes solid particulate, water, or both. It connects to PC for trending.
---
Original Press Release:

Schroeder Announces the Patent Pending Filtration Station(TM)


Schroeder Industries, a leader in hydraulic filtration, diagnostics and specialized energy products, announces the formal launch of its new patent pending Filtration Station(TM). Schroeder realizes that new product development is vital to the success of any company in today's competitive marketplace and applies new technologies to maintain its leadership in the fluid power industry.

Schroeder's new Filtration Station(TM) is the first of its kind on the market. The FS offers a fully automated flushing and filling unit with particle monitoring and the ability to print ISO cleanliness reports. Through the use of an interactive touch screen, this patent pending self-contained filtration unit will fill a measured volume of flushing fluid, circulate and filter, and drain a hydraulic system, component or circuit. In the Automatic Flush mode, the unit will filter the fluid until a user specified ISO Cleanliness Level is achieved. During all operations, it provides an on-screen analysis of the fluid's changing cleanliness levels in real time, at the >4mm(c), >6mm(c) and >14mm(c) levels applicable to the ISO 4406:1999 standard.

In addition, the Filtration Station(TM) is portable and can easily be maneuvered within a repair shop or transported to site locations. The unit removes solid particulate, water, or both. It can also be connected to a PC for trending operations.

Schroeder Industries, an Alco Industries subsidiary, is an international company that designs, manufactures and markets hydraulic filters, elements and diagnostic, mining, conveyor and ventilation equipment. Schroeder was one of the first companies to demonstrate the need for, and benefits of hydraulic filtration, pioneering the development of micronic filtration. Schroeder set the performance standard in fluid power systems and continues to be a leader in the application of new technologies.

For additional information, contact Schroeder Industries:
Nichol Avenue, Box 72
McKees Rocks, PA 15136
(412) 771-4810
Fax: (412) 771-1320
http://www.schroederindustries.com

More from Electronic Components & Devices