Filters prevent plugging of coolant delivery lines.
Press Release Summary: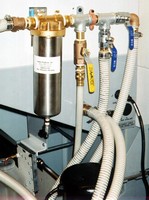 Supplied in line sizes from ¾-2 in. for flow rates up to 150 gpm, cartridge filters with permanent cleanable filter elements are installed within coolant delivery lines that direct coolant under pressure precisely to working area. Products prevent plugging by chips and fines in coolant that could result in tool breakage and unscheduled machine shutdowns. Each filter has stainless steel housing and washable plastic filter element that never requires replacement.
---
Original Press Release:

Plugging of Coolant Delivery Lines Prevented by Filters with Cleanable Elements



Coolant delivery systems that direct the coolant under pressure precisely to the working area, such as through-the-tool and through-the-spindle coolant, are susceptible to plugging by chips and fines in the coolant, resulting in tool breakage and unscheduled machine shutdowns. These problems are eliminated simply and inexpensively by installing cartridge filters with permanent cleanable filter elements from Keller Products, Inc. in the coolant delivery lines. The Keller in-line filters for coolant, easily installed in the shop, have stainless steel housings and the Keller unique washable plastic filter elements which never need replacement. Compared to a conventional disposable filter element, the Keller permanent cleanable filter element has a much higher flow rate at low pressure drop. When cleaning is required, the all-plastic element can be cleaned in a bucket of water, by washing with a hose, or in a parts cleaner using any shop cleaning agent or solvent. In one typical application on a vertical machining center with a coolant line supplying through-the-tool coolant and five coolant nozzles, the Keller XS075-2130 filter assembly completely eliminated the plugging of the coolant lines, which had previously caused unscheduled shutdowns of the machine tool every two weeks and required 3 to 4 man-hours to clean the lines. Keller supplies coolant filter assemblies with permanent filter elements in line sizes from 3/4" to 2" for flow rates as high as 150 gallons per minute.

For additional information, contact:
Keller Products, Inc., Jonathan Strauss, Sales Manager,
Tel 1-800-352-8422, Fax 978-264-0221
e-mail: kellerinfo@aol.com

More from Cleaning Products & Equipment