Filters are available in 0.2, 0.3, and 0.5 µm ratings.
Press Release Summary: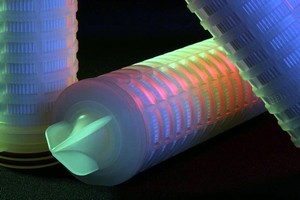 Combining outer layer of borosilicate glass microfiber media with inner layer of hydrophillic PVDF membrane, Protec® RM filters protect downstream membrane filters and equipment. They provide submicron contaminant removal and dirt-holding capability while removing colloids, aggregated and non-product proteins, and lipids. Applications include clarification, prefiltration, and bioburden reduction in biological liquids, vaccines, and tissue and cell culture media.
---
Original Press Release:

Protec® RM Now Available in 0.2 µm, 0.3 µm and 0.5 µm Ratings



The Protec® RM filter is now available in an expanded choice of absolute ratings - 0.2 µm, 0.3 µm, and 0.5 µm. The filter combines an outer layer of borosilicate glass microfiber media with an inner layer of Meissner's proprietary hydrophillic PVDF membrane. Protec® RM filters effectively protect downstream membrane filters and equipment. They consistently provide submicron contaminant removal, high dirt-holding capacity and high flow rates, while removing colloids, aggregated and non-product proteins, lipids and other particles. Typical applications include the clarification, prefiltration and bioburden reduction in biological liquids (including serum, plasma fractions and other blood products), vaccines, tissue and cell culture media,
protein solutions, fermentation media and feeds, cell removal form fermentation broths, pre-column chrommatography, and biopharmaceuticals.

Meissner offers leading filtration solutions for customer processes, from clinical trials through fullscale production. Meissner Technical Services (MTS) provides complete validation services, documentation and customer support to select, size, install and optimize filtration systems.

For more information, visit www.meissner.com, call 805-388-9911, or write: Meissner Filtration Products, Inc., 4181 Calle Tesoro, Camarillo, CA 93012.

Contact: Karisa Koenig
Director of Marketing
Leads to: leads@meissner.com
4181 Calle Tesoro
Camarillo, CA 93012
Phone (805) 388-9911
Fax (805) 388-5948

More from Cleaning Products & Equipment