Filtered Enclosure rids laboratory of unsafe fumes.
Press Release Summary: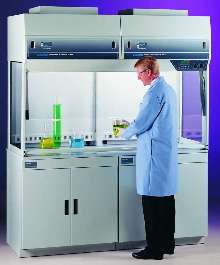 Available in 3 and 6 ft widths, Paramount® Filtered Enclosure incorporates color-coded Filter Cells that detects various chemicals specific to filter type. Filters, able to remove gaseous contaminants such as fumes from organic solvents, acids, formaldehyde, and ammonia, change color in presence of contaminants. Self-contained workstation requires no ducting and utilizes internal blower; 2 internal, carbon-based filters; and front air foil.
---
Original Press Release:
Paramount® Filtered Enclosures Rid Laboratory of Unsafe Fumes Without Ducting to the Outside

Labconco Corporation, Kansas City, Missouri, offers the Paramount® Filtered Enclosures - self-contained work stations that incorporate color-coded Filter Cells to detect a broad range of chemicals specific to the filter type. The filters remove small quantities of gaseous contaminants such as fumes from organic solvents, acids, formaldehyde and ammonia. A color change in the filter indicates the presence of contaminants. Since the Paramount Filtered Enclosure requires no ducting, it is moveable, conserves energy and has lower installation costs than traditional fume hoods.

As an internal blower pulls air into the enclosure, contaminants released within the enclosure are diluted by the air, drawn through the rear baffle, and adsorbed onto, or treated by, two internal carbon-based filters. A front air foil directs airflow into the enclosure to minimize turbulence and maximize fume containment.

The Paramount Filtered Enclosure ships fully assembled and is available in 3' and 6' widths. Models are available with glass back and baffle for visibility from all sides. Other models are designed for use with carbon-based and HEPA filters for applications involving both gaseous and particulate contaminants. Optional accessories include Mobile Base Stands and Electric & Manual Hydraulic Lift Base Stands, which offer mobility and ergonomic advantages.

For additional information about the Paramount Filtered Enclosure, call Labconco Corporation at 816-333-8811, fax 816-363-0130, e-mail labconco@labconco.com, or download the brochure at www.labconco.com.
More from Thermal & Heating Equipment