Filter System retrofits to stormwater catch basins.
Press Release Summary: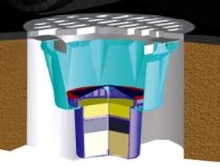 Fit to any flat-grated or combination curb-grated catch basin, EnviroSafe(TM) captures and retains pollutants from stormwater run-off. Product provides over 7 ft³ of storage for sediment (28 x 44 in. size) and employs hooded bypass that eliminates flooding potential while retaining captured sediment and debris. Available in rectangular and circular configurations, product accepts cartridges that may be configured to target particular pollutants.
---
Original Press Release:

EnviroSafe(TM) Modular Stormwater Catch Basin Filter System


EnviroSafe(TM) is designed to capture and retain the many pollutants associated with stormwater run-off.

EnviroSafe(TM) is often the first stop in an urban environment for the water flowing in from a paved surface. Surface water from parking garages, shopping centers and roadsides are recogninzed sources of pollution. The catch basin will be the entry point for debris, trash, sediment, chemicals and heavy metals.

EnviroSafe(TM) can be retrofitted to fit any flat-grated and combination curb-grated catch basin. After many years of development, the EnviroSafe(TM) system sets a new standard for capacity, efficiency, serviceability and low operating costs.

The debris basin provides ample storage for sediment (over 7 cubic feet in the 28 x 44" size.) The hooded bypass feature eliminates flooding potential during large storms while still retaining sediment and debris captured during the event.

Envirosafe(TM) can address the six measurable goals set by the EPA and NPDES II permit requirements.

EnviroSafe(TM) sediment basin is available in two configurations, retangular and circular. The basin will accept a range of cartridges which may be configured to target particular pollutant(s). EnviroSafe(TM) cartridges are highly innovative in the way that they filter pollutants:

Debris Deflector Hooded bypass eliminates flooding potential while retaining sediment

Woven Geotextile Barrier against clogging and blinding

Coarse Open Cell Foam Pre-filter restricts the flow of sediment and debris. Treated with antimicrobial shield technology that neutralizes bacteria on contact.

Oil Absorbing Pads Manufactured from a patented, lightweight, recycled polymeric absorbent filter. Collects up to ten times it's own weight in oil, MYCELX(TM) Media bonds with pollutants and removes 99% in a single pass. Captures hydrocarbons like crude oil, solvents, PCBs, pesticides, biocides and metals.

Fablite II Compound of naturally occuring minerals which remove heavy metals like cadmium, zinc, chromium, lead, copper and nickel.

Cartridge Casing Designed to retain pollutants for safe handling and transportation

More from Chemicals & Gases