Filter System provides wire EDM filtration.
Press Release Summary: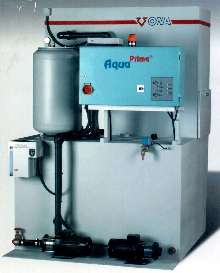 AQUA PRIMA Series AK-100 is automatic and self-cleaning. It uses mineral filter unit especially for wire EDMs and does not require filter media replacement. Featuring 300 gal tank capacity, stainless steel, stand-alone unit takes dirty water from machine and filters it to 3-micron cleanliness level to supply clean water for machining. It uses automatic EkoAdd metering tank, which reduces resin consumption. Automatic sludge discharge is fully controlled by PLC.
---
Original Press Release:
Now Available From Ona America New Stand Alone Filter System for All Wire EDM Machines
ONA AMERICA, Inc., Dayton, Ohio, recently announced the availability of the new AQUA PRIMA filtering system for Wire EDM. The Series AK-100 is automatic, self-cleaning, uses a mineral filter unit especially assigned for wire EDM filtration and does not require filter media replacement. Features of the new series include: o Designed for quick and easy retrofit with all Wire EDMs. o Stainless steel construction. o Large tank capacity - 330 gallons. o Clean water filtering to a 3-micron level of cleanliness. o 100% self-sufficient, stand alone system. o Automatic sludge discharge fully controlled by PLC. o Ecologically safe, does not require operator attention. o The filter uses an automatic EkoAdd metering tank that greatly reduces resin consumption. Designed to operate with all Wire EDMs, the filter unit takes dirty water from the machine and filters it to a 3-micron cleanliness level to supply clean water for machining. When the filter vessel reaches its cleaning capacity, which is detected by a pressure switch, a backwashing cycle starts and clean filtered water is supplied to the machine's dielectric tank. With this feature the machine always has a supply of clean water. When a predetermined number of programmed backwashing cycles is completed; sludge removal is initiated. Sludge is then discharged from the decanting tank into a sludge bag. An alarm is activated when the bag reaches full capacity. Controlled by a PLC control unit for the filtering operation, this new stand-alone filtering system is now available for use with any Wire EDM. ONA AMERICA INC. is a joint venture of ONA Electro-Erosion, S.A., Durango, Spain and GOSIGER Inc, Dayton, Ohio. Founded in Spain in 1952, ONA is the first EDM manufacturer in Europe. A producer of large-scale EDM machinery, ONA has over 10,000 machines installed worldwide. Servicing its installed base with highly trained engineers and technicians, ONA provides manufacturing solutions and after market support. Its success is directly attributed to its ongoing reinvestment in research and development, continually updating the technology and performance of ONA products. For additional information about the Aqua Prima Filter System contact: Cynthia Martin Operations Manager ONA AMERICA, INC. 108 McDonough Street, Dayton, OH 45402 Phone: 937-463-7645 Toll-free: 888-662-3367 Fax: 937-463-7636 E-mail: cynthia.rmartin@gosiger.com Web: www.ona-electroerosion.com