Filter/Silencer fits all stationary engine sizes.
Press Release Summary: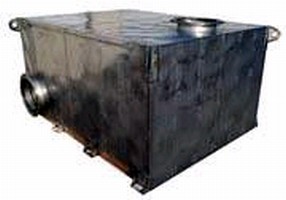 Incorporating CARB-verified PERMIT filter, PERMIT Filter/Silencer cuts exhaust emissions from prime power and emergency generators. Unit is installed on exhaust of generator, eliminating visible black smoke, diesel odor, and noise while engine is running. Manufactured using 304 stainless steel, filter/silencer is corrosion-resistant and fully insulated to minimize heat loss and provide sound attenuation.
---
Original Press Release:

Cleaning Up Emissions with New CleanAIR Filter/Silencer



Santa Fe, NM - May 14, 2007 - Leading emissions control manufacturer, CleanAIR Systems introduces a new addition to their line of diesel particulate filter products, the PERMIT Filter/Silencer, designed to reduce exhaust emissions from prime power and emergency generators. Facilities using gensets for power generation are already familiar with silencers installed to lessen engine noise. With the enforcement of stringent pollution regulations, generator owners also need emissions control technology along with sound attenuation to meet demanding air quality laws. The PERMIT Filter/Silencer incorporating CleanAIR's CARB verified PERMIT Filter, meets both requirements.

Available for all stationary engine sizes, CleanAIR's PERMIT Filter/Silencer is installed on the exhaust of a generator, eliminating visible black smoke, diesel odor and noise while the engine is running. Emissions of particulate matter are substantially reduced by more than 85% and emissions of carbon monoxide and hydrocarbons by up to 99%.

"Keeping our customer in mind, we designed our PERMIT Filter/Silencer specifically to fit facilities that need to reduce emissions and sound," explained CleanAIR Sales Engineer, Daniel Serrano. "By combining our diesel particulate filters with a silencer, the customer no longer needs two separate units that take up a lot of space. Our PERMIT Filter/Silencer does the job of both by eliminating emissions while at the same time providing sound reduction. It also reduces the overall cost."

Manufactured using 304 stainless steel, the PERMIT Filter/Silencer is custom designed to fit each application. Utilizing CleanAIR's integrated approach, the product is entirely designed and manufactured in-house, including: product design; flow, stress and sound modeling; filter catalyzation; and custom fabrication of the silencer shell. Each PERMIT Filter/Silencer is fully insulated to reduce heat loss and provide sound attenuation.

The stainless steel silencer is corrosion-resistant, thereby extending the life of the product. Using stainless steel also reduces the product's total weight by up to 50% over silencers currently on the market constructed of mild steel, allowing for easier installation.

"We looked at silencer designs already on the market and knew we could design a better, more efficient product that also incorporated our CARB verified PERMIT Filters," concluded Michael Roach, President of CleanAIR Systems. "It was a real group effort with our engineering, manufacturing and technical sales staff all offering input as to what our customers wanted in an emissions control product. Our team designed a premium product using stainless steel construction, incorporating our PERMIT Filters and still maintained a comparable price advantage. In this way all facilities from schools and hospitals to power generation plants can afford to install a better emissions control product."

For more information on the CleanAIR PERMIT Filter/Silencer visit www.cleanairsys.com/products/filters/index.htm

About CleanAIR Systems:
CleanAIR Systems is a technology-based corporation manufacturing emissions control systems with worldwide distribution. Their products are designed to control air pollution such as particulate matter and NOx, for on- and off-road vehicles, as well as stationary machinery and power generation. Visit CleanAIR Systems online at www.cleanairsys.com.

More from Controls & Controllers