Filter Media removes harmful gases from air.
Press Release Summary: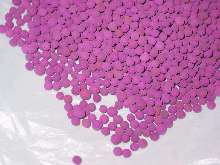 ProGuard 200, potassium permanganate (KMnO4), on alumina pellet with porous design, removes toxic, corrosive, and odorous gases. Suitable for protection of personnel in event of sudden chemical release, it also prevents corrosion in electronics and electrical equipment. Pellet coating and base do not support flames and is suitable for use in oil and gas refineries, wastewater treatment plants, and steel and pulp mills.
---
Original Press Release:
Low Dust, High Performance Filtration Media

ProGuard 200 To Debut at AHR 2003

EVANSTON, IL, December 26, 2002 -- ProMark Associates, Inc., developers of gas phase filtration media and equipment, will introduce their ProGuard 200 media pellet at AHR 2003 in booth #6714.

Greater Capacity with Higher Filter Efficiency

The new potassium permanganate (KMnO4) on alumina pellet exceeds current performance standards for this media. ProGuard 200 features a new pellet design which allows increased capacity and greater porosity. This translates into higher efficiency in removing toxic, corrosive, and odorous gases from indoor environments.

Key Advantages

EUR Greater Efficiency

The improved pellet design allows faster, more thorough penetration and removal of corrosive gases from indoor air.

EUR Cost Savings

Along with enhanced efficiency, the design extends the active life of the media. Since the ProGuard 200 pellets "work harder", there are longer intervals between filter changeouts, significantly reducing a facility's labor and material costs.

EUR Safety

ProGuard 200's greater absorption capacity improves indoor air quality in hazardous environments by reducing harmful pollutants. This means greater protection for personnel in the event of sudden chemical releases. It also makes the ProGuard 200 media an excellent choice for corrosion prevention in sensitive electronics and electrical equipment.

In addition, the ProGuard 200 is an ideal solution for environments where flammability is a concern since the coating and base of the pellet does not support a flame.

Industrial and commercial facilities -- including oil and gas refineries, wastewater treatment plants, steel mills, pulp mills, computer chip manufacturers, computer rooms, hospitals, museums and art galleries -- find ProGuard 200 the ideal solution for a variety of indoor air quality applications.

About ProMark

ProMark provides low cost, highly effective solutions for gas phase filtration concerns worldwide. From media to modules, equipment, lab and technical support, ProMark is a complete filtration resource for indoor air quality applications.

For additional product information, please contact:

Jeffrey Roseberry

ProMark Associates, Inc.

Tel: 847-866-7446

Fax: 847-866-7795

email: promarkasc@mindspring.com

More from Packaging Products & Equipment