Filter Bags are suited for laboratory use.
Press Release Summary: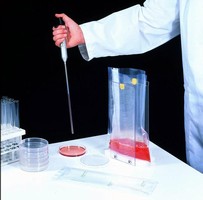 Incorporating nonwoven filter that separates bacterial flora from residual debris, BagFilter family of plastic bags are available in BagFilter®, BagPage®, BagPage+®, and BagLight® configurations. They provide quick pipeting and are suitable for laboratory food and solid sample blenders and mixers. Offered in 100 ml, 400 ml, and 3500 ml sizes, products are used in BagMixer® and Gravimat® sample preparation systems.
---
Original Press Release:

Spiral Biotech Offers 1st High-Performance Filter Bags for Laboratory Sample Preparation Blenders



NORWOOD, MASSACHUSETTS - April 30, 2007 - Advanced Instruments' subsidiary, Spiral Biotech, offers the first high-performance filter bags for laboratory food and solid sample blenders and mixers.

Spiral Biotech's BagFilter line of reinforced, heavy-duty plastic bags incorporates a
unique nonwoven filter that separates bacterial flora from residual debris and
provides easier and quicker pipeting. The single-use, sterilized bags ensure greater
time savings with complete security.

Spiral's BagFilter family is available in the following configurations:
o BagFilter® - With a nonwoven filter, this bag is recommended for analysis of
raw and cooked meat, fish, vegetables, and fruit. Two models are available:
"P" for pipeting and "S" for pouring.
o BagPage® - This bag ensures savings in analysis time by trapping sample
debris behind the clog-free filter membrane. It's ideally suited for thick pasty
products, such as cheese, pastry, and chocolate.
o BagPage+® - The bag has two compartments separated by the filter. One
side is marked to identify the sample compartment, the other pinched by an
extra weld for error-free pipeting.
o BagLight® - A sturdy plain bag for products that don't require filtration. Made from Polysilk®, the container is remarkably resilient and can be deep frozen.

BagFilter products are available in 100 ml, 400 ml or 3500 ml sizes. Designed for
use in Spiral's industry-leading BagMixer® and Gravimat® sample preparation
systems, they also work with any other type of blender.

Spiral's BagFilter products provide the quickest way to enhance a laboratory's
sample mixer performance.

Spiral is offering a free 10-bag sample pack of its 400 ml BagPage. For more
information, on the Web, go to: www.filter-bags.com.

Spiral Biotech's BagFilter high performance filter bags are immediately available.
Orders received by July 31, 2007 are eligible for a 25% discount. For more
information, call 800-554-1620 or +1-781-320-9000.

About Advanced Instruments and Spiral Biotech

Founded in 1955, Advanced Instruments, Inc. is the world's largest supplier of
freezing-point osmometers used in clinical, pharmaceutical, and biotechnology
laboratories. The company is also a leading supplier of analytical instruments and
test kits for the food, dairy, and industrial microbiology markets. Based in Norwood,
Massachusetts, USA, the company also produces Fiske® Associates brand diagnostic
instruments and operates Spiral Biotech, Inc., and Delta Instruments as wholly-
owned subsidiaries.

For nearly 30 years, Spiral Biotech, Inc. has developed and supported automated
microbiology systems for food, dairy, and environmental sciences. The company is a
wholly-owned subsidiary of Advanced Instruments, Inc., the world's leading
manufacturer of freezing-point osmometers for clinical and research applications.
Visit Spiral Biotech online at www.spiralbiotech.com.

Advanced Instruments' products are supported by a worldwide network of direct
sales people and independent distributors. Reach Advanced Instruments online at
www.aicompanies.com or contact customer service at 800-225-4034 or+1-781-320-
9000.

Notes:
o Press contact: Don Goncalves, dgoncalves@tizinc.com, 781-793-9380
o Download high resolution photo at: tizinc.com/aicompanies (Scroll to
BagFilter® Filter Bags)

More from Electrical Equipment & Systems