Filming of 'Dark Knight Rises' Marks another Larson Electronics Magnalight.com Tie to Cinema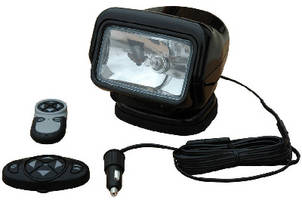 With filming of the third and last installment of the Batman film series," Dark Knight Rising", almost complete, Larson Electronics' Magnalight.com will be seeing yet another return to the silver screen of its industrial grade lighting equipment. Although powerful lighting equipment, value, and quality service have defined Larson Electronics' long history and cemented its position as a leader in lighting products, the continued trend in cinema of using Magnalight.com equipment marks a new trend for the industrial lighting leader.

Long established as a leading manufacturer and provider of high quality lighting equipment for the industrial/commercial markets, Larson Electronics is now seeing a continuing trend towards the inclusion of its products within the film industry. The latest equipment from Magnalight.com slated to appear in a major film release is the GL-3049H HID Golight Stryker remote controlled spotlight. Designed as a powerful spotlight for applications ranging from utilities services and boating to military deployment and law enforcement, these Golight Stryker spotlights offer heavy duty durability combined with convenient remote control operation. Containing a single 35 watt HID bulb fitted within a weatherproof and UV resistant housing, these remote controlled spotlights produce 3,000 lumens of light and a spotlight beam reaching over 5,000 feet in length. A heavy duty gear motor system controls movement of the spotlight and allows both vertical and horizontal adjustment. In this particular model, (priced at $630) two weatherproof and wireless remote controls allow full control of this HID spotlight from up to 100 feet away and include a wireless portable remote and a wireless mountable remote for attaching to control consoles and instrument panels. The extreme brightness and 360 degrees of rotation and 170 degrees of vertical tilt movement of these units makes these remote controlled spotlights ideal for a huge variety of applications such as search and rescue, military operations, boating, and hunting, just to name a few. As well as their power and durability, the clean lines, smooth corners, and black, white, or chrome finishes of Golight Stryker spotlights also offer an attractive profile that is small enough to be unobtrusive, yet aesthetically pleasing when permanently mounted. It is this unique combination of durable and powerful illumination and attractive design that is largely responsible for the inclusion of these spotlights into cinematic use which serves to highlight the modern appeal these remote control spotlights project. With several recent film releases such as 'I am Legend', 'GI Joe', and 'The Green lantern', utilizing Magnalight lighting equipment and several more still in production, it's a safe bet that Larson Electronics will be maintaining a continued presence in the film industry.

"Both the output and aesthetics of lighting are important in the movie industry," said Rob Bresnahan. "We have been fortunate that our lights are used for both purposes on the sets of several interesting films and televisions shows."

Larson Electronics' Magnalight stocks an extensive inventory of Golights, HID spotlights, remote control spotlights, and LED spotlights representing the latest and best in lighting technology. The full line of Larson Electronics' spotlights can be seen by visiting Magnalight.com. Magnalight can meet special order lighting requirements and can be contacted by calling 1-800-369-6671 or 1-214-616-6180 for international inquiries.