Film protects metal sheets and plastic profiles.
Press Release Summary: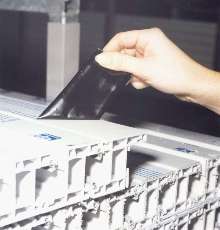 NOVACEL 9373 self-adhesive, 50 micron, black and white film provides surface protection for stainless steel, aluminum, and precoated metal sheets, as well as plastic profiles used in building, appliance, automobile, and electronic industries. Backing features polyolefin base for durability. Film comes in rolls up to 3,300 ft long and 8.5 ft wide.
---
Original Press Release:

Novacel 9373 Self-Adhesive Film: The Surface Protection Solution for Metal Sheets and Plastic Profiles


Chicago, September 11, 2003

As the demand for innovative industrial surfaces continues to grow, so does the need for dependable surface protection solutions. The French company NOVACEL is introducing its latest solution, NOVACEL 9373. This new self-adhesive film is specially designed for the protection of metal sheets (stainless steel, aluminium, precoated metal) and plastic profiles used in the building, appliance, automobile, and electronic industries.

The company is committed to providing easy-to-use and cost effective solutions. NOVACEL 9373 is a 50 micron black and white film that, thanks to its innovative backing with a polyolefine base, provides excellent strength and durability at a lower cost.

NOVACEL can print company trademarks, logos, advertising messages or technical information on the film upon request. The company supplies NOVACEL 9373 in rolls, 3,300 feet long and up to 8.5 feet wide.

The company's surface protection solutions, including NOVACEL 9373, will be exhibited at three major tradeshows this fall: The Society of Plastics Engineers' THERMOFORMING 2003 to be held in the Cincinnati Convention Center in Ohio, September 13-16; METALCON International 2003 to be held in the Tampa Convention Center in Florida, October 28-30; and BATIMAT 2003 to be held at the Paris Expo Center in France, November 3-8, Booth 1H66. NOVACEL is present in over sixty countries on five continents, and is currently seeking business contacts in both the United States and Canada.

For more information, please contact:
FRENCH TECHNOLOGY PRESS OFFICE
205 North Michigan Avenue, Suite 3740
Chicago, IL 60601
Tel: (312) 327-5260
Fax: (312) 327-5261
E-mail: [email protected]