Film is based on VICTREX® PEEK(TM) polymer.
Press Release Summary: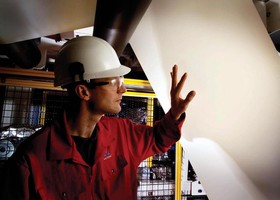 Including 1000 series of crystalline films and 2000 series of amorphous films in filled/unfilled versions, APTIV(TM) Film is available in thicknesses from 6-750 microns and in widths up to 1.5 m. FDA- and RoHS-compliant films feature high temperature capability, chemical resistance, scratch resistance, radiation resistance, mechanical properties, barrier and electrical properties, hydrolysis resistance, low toxicity of combustion gases, and low moisture absorption.
---
Original Press Release:

Victrex Launches APTIV(TM) Film, a Comprehensive Range of Versatile, High-Performance Films Based on VICTREX® PEEK(TM) Polymer



New versatile APTIV(TM) films reduce systems costs, improve performance and enhance design freedom

Filled and unfilled crystalline and amorphous APTIV film made from VICTREX® PEEK(TM) polymer now available in thicknesses from 6 to 750 microns and in widths up to 1.5 metres

Thornton Cleveleys, UK (May 23, 2007) - Victrex plc, a leading manufacturer of high performance materials, including VICTREX® PEEK(TM) polymer and VICOTE® Coatings, has launched an innovative range of VICTREX PEEK polymer-based films under the brand name APTIV. APTIV film is made using VICTREX PEEK polymer, which is widely considered to be the highest performing melt processable polymer available.

"When compared with other film products available in the market, APTIV film is an extremely versatile product that delivers a broad range of capabilities and performance under a diverse range of conditions," said Andrew Storm, Global Ventures Business Leader of Victrex plc. "APTIV film is a technology enabler for our customers and end users, providing a number of benefits that can facilitate a reduction in systems cost, help improve performance, and enhance design freedom, all of which help our customers to improve their product performance and differentiation."

Offering a unique combination of properties, including: high temperature capability; excellent chemical resistance; exceptional durability and scratch resistance; outstanding radiation resistance, superior mechanical properties, excellent barrier and electrical properties, all combined with the ease of processing inherent in a thermoplastic material, APTIV film is one of the most versatile and highest performing films available. APTIV film also offers hydrolysis resistance, high purity, good flammability without the use of flame retardants, low toxicity of combustion gases, with low moisture absorption, all in a versatile film format that is also FDA- and RoHS- compliant.

Produced in both filled and unfilled crystalline and amorphous grades, all APTIV film will be manufactured by Victrex at their new facility, which is one of the most technologically advanced facilities for the production of high-performance polymer films. Co-located with the main Victrex facility in the UK and part of a fully integrated supply chain, the new line is dedicated to the production of APTIV film and has been designed to deliver the tightest tolerance, highest quality PEEK films available in the market.

APTIV films are available in a variety of grades, including the 1000 series of crystalline films and the 2000 series of amorphous films; both series are available in filled or unfilled versions depending on the specific needs of the customer application.

The new APTIV film grades can be manufactured up to1.5 metres wide - the widest PEEK film in the market today - and at thicknesses ranging from 6 to 750 microns, delivering an unrivalled level of design flexibility.

"APTIV film is already being specified in many market sectors, from electronics and aerospace, to wire & cable insulation, and in semiconductor and automotive applications," said John Getz, Commercial Leader of APTIV films for Victrex plc. "The unique combination of properties inherent in our VICTREX PEEK polymer combined with ease of processing provides engineers with a material choice in a film format that most competing materials cannot match. It is this unique combination of properties that ensures that our existing and prospective customers have a key value differentiator for their end products."

The versatility of the new APTIV films means that they can be used in a broad range of applications, including: speaker diaphragms for mobile phones and consumer speakers; electrical wire insulation and cable wrapping; pressure transducer and sensor membranes; industrial and electronics wear surfaces; electrical substrates; and aerospace insulation blankets. Victrex will continue to work in partnership with its key customers to develop specialized films for complex applications such as rigid and flexible printed circuit board (PCB) substrates and high performance adhesives and tapes and labels.

"Opportunities to exploit the inherently halogen-free APTIV film, the recyclable nature of APTIV film and the ability to eliminate downstream processing steps traditionally needed with other films, are also under investigation," said Andrew Storm, Global Ventures Business Leader at Victrex.

"One of the key advantages of APTIV film is that it can facilitate our customers and end users in reducing their systems costs," continued Storm. "Systems cost takes into account a variety of factors beyond material price. These include: extended part life in the application due to the durability of APTIV film; improved manufacturing yields; improved manufacturing cycle times; and reduced part weight through use of thinner films or the inherently lower specific gravity of APTIV film when compared with Fluoropolymer films.

"For example, APTIV film has enabled one customer to reduce the thermoforming cycle time of their parts by 50%. In another case, a customer was able to eliminate their need for adhesives by directly heat bonding APTIV film to their metal substrate. This level of versatility ensures that APTIV film when compared with other traditional film products offers real value to the customer and end user in real-world applications."

The ability to produce very thin films - thicknesses from 6 to 750 microns - also offers an advantage when space is at a premium, while the temperature performance of this VICTREX PEEK polymer-based film enables miniaturisation due to its ability to withstand the higher temperatures generated. Further, the specific gravity of APTIV film is less than that of Fluoropolymer films, offering weight saving advantages, with no drop off in mechanical integrity; these attributes are critical in aerospace industry applications.

State-of-the-art equipment at Victrex's new film extrusion plant includes the capability to surface treat the APTIV film using an atmospheric plasma surface treatment system. Surface treatment of the APTIV film using this system offers much higher surface energy levels and higher stability of the treated film, when compared with Corona treatment systems, offering enhanced opportunities to adhere APTIV film more effectively to other materials, with and without adhesives.

Victrex has a long history in the manufacture of VICTREX PEEK polymer, combined with a reputation for innovation and technical expertise. The decision to manufacture APTIV film was made to better serve customers and end users by offering Victrex PEEK film directly, in the required format and with the necessary products, and to improve responsiveness on a global basis.

APTIV film is supported by a dedicated global team of technical, product and application experts tasked with ensuring that customers, no matter where they are in the world, will have access to applications and technical know-how to develop their own applications quickly and efficiently.

For more information about Victrex APTIV films made from VICTREX PEEK polymer, go to www.aptivfilms.com.

More from Machinery & Machining Tools