Film Covers shield all types of electronics.
Press Release Summary: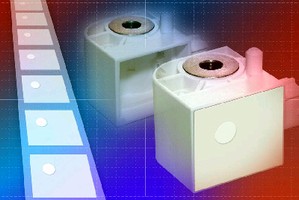 Designed to replace plastic housing closures, SmartCap Systems protect electronics from dirt and moisture as well as static electricity and EMI. Customizable film can be applied using pressure-sensitive adhesive or by using laser or ultrasonic welding. Complying with highest IP protection classes, closures allow for integration of additional functions such as security features, and can be printed on using thermal transfer ribbon, eliminating need for labels.
---
Original Press Release:

Schreiner LabelTech Unveils New SmartCap System



Customizable New Film Cover Offers Multiple Benefits Including Shielding All Types Of Electronics From Dirt and Static Electricity

SOUTHFIELD, MI - December 6, 2006 - Schreiner Label Tech today announced the introduction of their new SmartCap System, a unique and flexible application designed to replace plastic housing closures that protect electronics, such as mass airflow meters or crash sensors, from dirt and moisture. Schreiner's SmartCap films also shield electronics from static electricity and electromagnetic interference (EMI). Schreiner's SmartCap solution replaces traditional, molded covers with a customizable film that can be applied using pressure sensitive adhesives or by using laser or ultrasonic welding. The unique and innovative design reduces production costs and increases productivity since components can be enclosed quickly with minimum investment or space required.

SmartCap allows electronics manufacturers to choose the application technique that best suits their particular production process for smooth and cost-effective integration. Unlike other housing closures, SmartCap films allow for the integration of additional functions. Examples include pressure compensation seals and EMI shielding, as well as authenticity protection solutions and other security features. SmartCap film closures comply with the highest IP protection classes and have been confirmed in environmental simulation and mechanical resistance tests according to common OEM standards.

Due to its reel storage capabilities, the Schreiner SmartCap also helps to optimize logistics. In addition, the film can be TTR (thermal transfer ribbon) printed. This eliminates the need for additional labels and thus yields further cost savings - an additional benefit of the Schreiner SmartCap system when compared with more conventional solutions.

For further information, please contact:
SCHREINER LABEL TECH, INC
21477 Bridge Street-Suite I
Southfield, MI 48034-4000
phone: 248-355-3006
fax: 248-355-3046
Toll free: 888-888-8564
schreiner-usa.com

A division of Schreiner Group GmbH & Co. KG