Fillmore Container's Stout Bottles come in corrugated box.
Press Release Summary: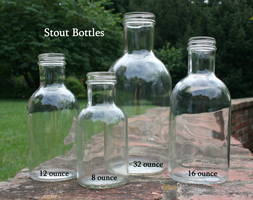 Fillmore Container's stout bottles are offered in 8 and 32 oz. sizes. The 8 oz. bottle features 38/400 finishing whereas the 32 oz bottle comes with 48/400 finishing. Units are packed in corrugated box in pack of 12 jars. Fillmore also offers 12 and 16 oz. bottles.
---
Original Press Release:
Fillmore Container Introduces Two New Stout Bottles to Product Line
Fillmore Container introduces the 8 ounce and 32 ounce Stout bottles created by Arkansas Glass to its product offerings. These new sizes complement the current 12 ounce and 16 ounce Stout Bottles that are already available for purchase.
The bottles are sold in a corrugated box with dividers, pack of 12 jars. The 8 ounce bottle has a 38/400 finish which fits the RC-038 lids. The 32 ounce bottle has a 48/400 finish which fits the following RC-048/400 lids. Lids are sold separately for each bottle.
The 8 ounce, 12 ounce, 16 ounce, and 32 ounce bottles are available for purchase on Fillmore Container's website. www.fillmorecontainer.com
About Fillmore Container
Fillmore Container, formed in 1995 and based in Lancaster, PA, is a distributor of packaging products and candle making supplies. Its mission is to offer the best selection, price and service for quality glass containers including: food containers, closures, canning accessories, candle containers, candle wax, fragrance oils, candle wicks, and candle accessories. Fillmore Container is dedicated to supplying the best price, service and logistical support for packaging needs. Products are suitable for food & beverage, drug & pharmaceutical and cosmetic applications. www.fillmorecontainer.com
Contact:
Michele Heller
2315 Norman Road
Lancaster, PA 17601
Phone: 866-345-5527
Email: info@fillmorecontainer.com


Website: www.fillmorecontainer.com
More from Material Handling & Storage