Filling and Stoppering Machine handles up to 7,200 vials/hr.
Press Release Summary: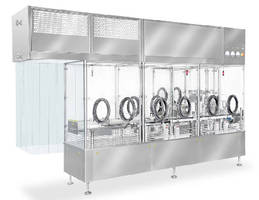 Suited for suspensions, vaccines, and cellular tissue, Dara SX-300-Lyo aseptically fills glass or plastic vials with volumes from 1–100 mL, and inserts rubber stoppers half way into vials for lyophilization. Servo-driven system is available with rotary piston pumps or peristaltic pumps, offering ±0.5% and ±1% accuracy, respectively. Single stopper station accommodates vials up to 2.1 in. dia and 4.3 in height, while double station system accommodates vials up to 1 in. dia and 2.4 in. in height.
---
Original Press Release:

NJM Packaging Introduces Dara SX-300-Lyo Vial Filling and Stoppering Machine






NJM Packaging introduces the Dara SX-300-Lyo aseptic filling and stoppering machine for lyophilized products in vials. Dara can equip this system with stainless steel or ceramic rotary piston pumps or peristaltic pumps that utilize 'single use' tubing. Featuring fully servo-driven automation and a compact footprint, the SX-300-Lyo offers accurate filling and precise stoppering as well as low maintenance, fast and easy changeovers and simple set-up for adding new vial sizes.




Ideal for suspensions, vaccines and cellular tissue, the Dara SX-300-Lyo aseptically fills glass or plastic vials with volumes from 1 to 100 ml. It inserts rubber stoppers half way into the vials for lyophilization.



Dara can configure the SX-300-Lyo with rotary piston pumps or peristaltic pumps, with one or several filling heads, simple or multiple stoppering stations to achieve throughputs of up to 7200 vials per hour within a compact footprint. The linear, intermittent-motion SX-300-Lyo is only 70 inches (178 cm) long and 30 inches (76 cm) wide. The rotary piston pumps offer +/- 0.5 percent accuracy and the peristaltic pumps offer +/- 1 percent accuracy. The system can be changed over to handle a new product in 15 minutes with no tools required.



For sterile or clean room applications, the SX-300-Lyo can be equipped with a laminar air flow (LAF), open or closed restricted access barrier system (oRABS/cRABS) or with a high containment isolator system. Optional clean-in-place (CIP), sterilization-in-place (SIP) or gas flushing are also available.



Ancillary equipment from Dara, such as automatic or manual denesting units, adapts this machine to any ready-to-fill vials. Trays of sterile vials can be manually fed to the SX-300-Lyo or the system can be integrated with an upstream vial washer and depyrogenation tunnel for continuous automated feeding. An integrated rotary table single files vials for presentation to the filling heads. Bags of stoppers are loaded into a vibratory hopper/circular feeder that delivers stoppers to a pneumatic pick-and-place station that inserts the stoppers into the vials. Filled and stoppered vials are directed to output trays for manual unloading or they can be integrated with downstream equipment to automatically transport trays to the lyophilization chamber.



Users can program the SX-300-Lyo to fill in a variety of ways – with nozzles lowered to the bottom of the vials, half way up or from above to meet the needs of each product. The system features a no bottle-no fill-no stopper safety device. Inspection stations detect fill levels, missing stoppers and raised stoppers and trigger an automatic reject to remove out-of-tolerance vials. The system can be equipped with a checkweigher for 100 percent weight control or a statistical weighing mechanism. An optional particulate counter further ensures final product quality.



Filling vials from 1 to 100 ml, the SX-300-Lyo handles stoppers from 13 to 30 mm in size. A system with a single stopper station accommodates vials up to 2.1 inches (54 mm) in diameter and 4.3 inches (110 mm) in height. A double station system accommodates vials up to 1 inch (26 mm) in diameter and 2.4 inches (60 mm) in height.



Partially or fully servo-driven, depending on the specific configuration, the SX-300-Lyo offers repeatable performance, low maintenance, simple troubleshooting, fast changeovers and easy adaptability to future applications and new package formats such as adding new vial sizes. An Allen-Bradley PLC controls machine functions and an Allen-Bradley color touchscreen presents a simple and unique user interface that includes dosing or weighing scales. All production parameters can be programed into the PLC, including dosing volumes, dosing speeds, kinematics of the filling system, adjustment of automatic feeders and output. 



The SX-300-Lyo can be equipped with data recording software to export the production data in compliance with 21 CFR Part 11. Featuring 304 stainless steel frame and electro-polished 316 stainless steel product contact parts that meet FDA approval for use by pharmaceutical and biotech manufacturers, the SX-300-Lyo has been designed in compliance with cGMP.



NJM offers a "total solution" approach that includes full validation support and turnkey line integration services to seamlessly combine best-in-class technologies. NJM's world-class aftersales support includes standard and extended warranties, preventative maintenance programs and onsite installation, training and ongoing service.



About NJM Packaging

For 100 years, NJM Packaging has been the proven packaging systems resource, unmatched for the innovation and quality of our equipment manufacturing, solid dose solutions, expertise in labeling, complete line integration, and truly exceptional support.  A one-stop source, NJM Packaging offers expert knowledge and experience from the earliest stages of planning through implementation and production, delivering competitive advantage and greater end-product value to our clients.  Our customers include: pharmaceutical, nutraceutical, food, beverage, chemicals, cosmetic and personal care product manufacturers; as well as contract manufacturers.



Reader Inquiries:

Marla Stallmann

NJM Packaging

56 Etna Road

Lebanon, NH 03766-1403 USA

Tel: 603 448-0300

Fax: 603 448-4810

MarlaStallmann@njmpackaging.com

www.njmpackaging.com

More from Cleaning Products & Equipment