Filling and Closing Machine from Bosch Honored with Red Dot Award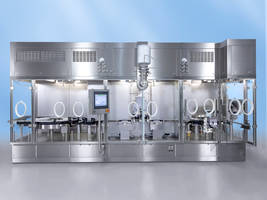 Award in the category product design
AFG 5000 for the sterile filling of pharmaceutical powders
Expert jury acknowledges functionality and machine design
New feature: aseptic changeover of product-handling parts
Essen/Crailsheim, Germany – The filling and closing machine AFG 5000 from Bosch Packaging Technology recently received the internationally renowned "Red Dot Award" from the Design Zentrum Nordrhein-Westfalen in the category product design. The assessment was carried out by a 40-member international expert jury based on criteria such as degree of innovation, functionality, formal quality, ergonomics and durability. Designers and manufacturers from 59 nations submitted more than 6,300 objects.
"We are very happy to receive this award. The independent jury verdict shows that our approach to focus on the customer right from the beginning proves successful," said Dieter Bandtel, product manager at Bosch Packaging Technology, during the award ceremony at the Red Dot Gala in Essen, Germany. "The AFG 5000 was developed and designed according to customer requirements. The result is a machine with a compact and space-saving design, easy handling and a small number of format parts."
Successful market introduction and ongoing development
In autumn 2017, the AFG 5000 was first presented to a selected audience. The flexible machine platform allows the exact dosing of both small and large amounts of powder with an output of up to 480 vials per minute. Customers can choose between statistical or 100% in-process control of dosing weights. While the vials are continuously fed into the filling machine, the transport system adjusts the feed rate to precisely match the rhythm of the individual workstations. Shuttle carrier systems, which can quickly switch between infeed and outfeed, prevent bottlenecks and idle times. "Since its introduction, the machine has been successfully established on the market within a very short time," said Bandtel.
Flexible aseptic parts changeover
The close exchange with customers, as well as their feedback made it possible to add new features to the AFG. For instance, pharmaceutical manufacturers can now also aseptically incorporate powder-handling parts before the start of production with closed RABS (Restricted Access Barrier System). The parts are introduced via transfer lock and then mounted with the aid of gloves. "Parts handling is usually a complicated process," Bandtel explained. "This is why the product-handling parts of the AFG 5000 are light-weighted and easy to handle, so employees can install them with little effort. Thanks to the vertical, ergonomically accessible design, the system can be operated completely from one side." Alternatively, operators can exchange parts when the RABS is open and then sterilize the assembled essential parts with a CIP/SIP process.
Continuous gas flushing reduces residual oxygen
To increase pharmaceutical products' durability, manufacturers must keep the residual oxygen content in the vial as low as possible. Hence the glass containers are gassed with nitrogen prior to closing. "However, when nitrogen is rapidly and forcefully blown into the vial, there is a risk of powder particles whirling up and out of the vial," Bandtel explained. "We prevent this risk by integrating the gassing channels of the AFG 5000 directly into the stoppering wheel." The rotation of the wheel creates a continuous flow of nitrogen at the bottle opening right up to closing and ensures consistently low residual oxygen levels. "The continuous transportation of the vials within the gassing area optimally supports this process," said Bandtel. "This way, the functionalities of the machine complement each other even more effectively."
Contact:
Dieter Bandtel,
phone: +49 7951 402-362
Contact person for press inquiries:
Nicole König,
phone: +49 7951 402-648
Based in Waiblingen near Stuttgart, Germany, and employing 6,300 associates, the Bosch Packaging Technology division is one of the leading suppliers of process and packaging technology. At over 30 locations in more than 15 countries worldwide, a highly-qualified workforce develops and produces complete solutions for the pharmaceuticals, food, and confectionery industries. These solutions are complemented by a comprehensive after-sales service portfolio. A global service and sales network provides customers with local points of contact.
More information is available online at www.boschpackaging.com
The Bosch Group is a leading global supplier of technology and services. It employs roughly 402,000 associates worldwide (as of December 31, 2017). The company generated sales of 78.1 billion euros in 2017. Its operations are divided into four business sectors: Mobility Solutions, Industrial Technology, Consumer Goods, and Energy and Building Technology. As a leading IoT company, Bosch offers innovative solutions for smart homes, smart cities, connected mobility, and connected manufacturing. It uses its expertise in sensor technology, software, and services, as well as its own IoT cloud, to offer its customers connected, crossdomain solutions from a single source. The Bosch Group's strategic objective is to deliver innovations for a connected life. Bosch improves quality of life worldwide with products and services that are innovative and spark enthusiasm. In short, Bosch creates technology that is "Invented for life." The Bosch Group comprises Robert Bosch GmbH and its roughly 440 subsidiary and regional companies in 60 countries. Including sales and service partners, Bosch's global manufacturing, engineering, and sales network covers nearly every country in the world. The basis for the company's future growth is its innovative strength. At 125 locations across the globe, Bosch employs some 64,500 associates in research and development.
Additional information is available online at www.bosch.com, iot.bosch.com, www.boschpress.com, twitter.com/BoschPresse.
Robert Bosch GmbH
Postfach 10 60 50
D-70049 Stuttgart,
Germany
E-mail nicole.koenig@bosch.com
Phone +49 7951 402-648
Twitter @BoschPresse 
Corporate Communications and Brand Management Senior Vice President: Dr. Christoph Zemelka www.bosch-press.com
More from Thermal & Heating Equipment