Gas and Chemical Sensors / Detectors
Figaro Engineering Product Announcement: Lead-Free Oxygen Sensor TGS4260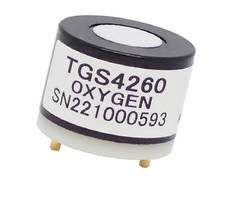 Figaro Engineering Inc. is pleased to announce its latest in development sensor—the potentiostatic electrolysis type, lead-free oxygen sensor, TGS4260. This sensor is available in addition to our current galvanic KE-LF series of oxygen sensors and offers a different sensing technology.
TGS4260 is a potentiostatic electrolysis-type oxygen sensor which has a wide measuring range and operating temperature range. One of the main features of the sensor is its quick response time, around 3 seconds of T90 at room temperature. Its performance is compliant with the technical requirements of relevant US and European standards.
Thanks to its long life, high impact resistance, compact size, and no positional dependency, it is easy to incorporate this sensor in size-oriented applications such as portable oxygen detectors and multi-gas detectors.
For your evaluation, we can provide limited free samples by request, under the condition of receiving customer feedback. The quantity is limited. Please let us know the required quantity and your company name, application, and background of the request. Please be on the lookout for this sensor's release into the market in the coming months.
More from Sensors, Monitors & Transducers