FieldServer Technologies' OPC Gateways tested for Compliance to OPC Specifications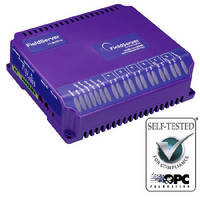 FieldServer Technologies now offers a full range of OPC Gateways that have been tested to be compliant with OPC Foundation Specifications for DA 2.05a. These products for the OPC community range from the ProtoCessor gateways that enable Original Equipment Manufacturers to easily provide OPC interface, to FieldServer multichannel gateways for the end-user and integrator to meet communicate via OPC.

OPC is open connectivity in industrial automation and enterprise systems. The OPC Foundation has established standards of communication that assures the interoperability demanded by developers and integrators. FieldServer Technologies has been a member of the OPC Foundation and involved in OPC integration for almost ten years. FST gateways provide legacy and proprietary devices access to the power of OPC and with the across-the-board testing of all levels of gateways, FieldServer is the first gateway provider that can provide such a range of interface for all levels of integration.

FieldServer Technologies is particularly strong in the building automation industry with over 100 protocol drivers in their extensive driver library. These drivers work with the FieldServer OPC gateways and servers to provide the vital link for many Building Automation and Industrial controls access to OPC.

The gateways tested to be compliant to OPC specifications include:

o FS-B20 Series - OPC Gateway with serial and Ethernet interface capability

o FS-B3510 - Multichannel OPC Gateway with dual Ethernet and four serial ports to interface multiple devices and protocols to OPC. Other protocols include LonWorks, DeviceNet, ControlNet and Profibus

o FS-B40 Series - Ten-port OPC Gateway with 10 Serial and dual Ethernet ports for large system interface

o OPC Server - standalone OPC server

o ProtoNode - external gateway solution for OEM applications

About FieldServer Technologies and ProtoCessor

FieldServer Technologies, a wholly owned division of Sierra Monitor Corporation (OTC BB: SRMC.OB) based in California, designs and markets a broad line of devices that enhance communication between various instruments, systems, machines and other devices that utilize non-compatible data protocols. The FieldServer combined with the extensive driver library makes the perfect package to achieve interoperability. Drivers included in this library are Modbus, LonWorks, BACnet, Metasys, Allen Bradley EtherNet/IP, plus drivers for fire alarm panels, controllers, and many other proprietary and legacy devices. The ProtoCessor group of FieldServer Technologies provides the same proven FieldServer technology for Original Equipment Manufacturers.
For more information about FieldServer Technologies, please visit www.FieldServer.com or ProtoCessor at www.protocessor.com.

More from Electronic Components & Devices