Fieldbus Controller integrates Ethernet switch into PLC.
Press Release Summary: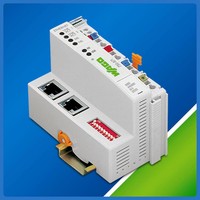 Featuring integrated DIP switch, Model 750-871 Dual-Port Ethernet Controller can link WAGO-I/O-SYSTEM to ETHERNET fieldbus, while dual RJ-45 Fieldbus ports daisychain up to 20 devices. It uses MODBUS/TCP and EtherNet/IP for data acquisition/control, and may use 1 of several protocols (HTTP, BootP, DHCP, DNS, SNTP, FTP, SNMP, or SMTP) for system management. With data transmission rates of 10/100 Mbits/sec, unit includes 512 kB program memory, 256 kB data memory, and 24 kB retentive memory.
---
Original Press Release:

WAGO 750-871 Dual-Port Ethernet Controller Integrates Ethernet Switch into PLC



09/02/2008

Integrated Ethernet switch functionality enables WAGO's new 750-871 ETHERNET TCP/IP 2-Port Programmable Fieldbus Controller to optimize networking capabilities while streamlining associated costs. The 750-871 is easily integrated into existing Ethernet networks while minimizing the overall number of components. The controller can link the WAGO-I/O-SYSTEM to the ETHERNET fieldbus and the dual RJ-45 Fieldbus ports daisychain up to 20 devices - each segment may be up to 100m long - within one series.

"Although Ethernet networks offer excellent flexibility, this often comes at the price of additional components," said Mark DeCramer, Product Manager - WAGO-I/O-SYSTEM. "With the 750-871's integration of switches into a PLC, users can provide PLC control to local and networked devices without incurring additional component costs."

The controller is programmable in accordance with IEC 61131-3 and also features an integrated DIP switch that may be used for IP address assignment.

Well-Networked Controller:

The 750-871's compatibility with several protocols makes it an ideal system addition. For instance, the 750-871 can utilize MODBUS/TCP and EtherNet/IP for data acquisition or control, and may utilize one of several protocols (HTTP, BootP, DHCP, DNS, SNTP, FTP, SNMP and SMTP) for system management and diagnostics. The 750-871 permits data transmission rates of 10/100 Mbits/s, contains 512 KB of program memory, 256 KB of data memory and 24 KB retentive memory. A battery-backed, real-time clock and 32-bit multi-tasking CPU provide additional reliability and support for a wide variety of applications. HTML pages can be conveniently placed on the 750-871's internal server for use in Web-based applications.

WAGO is the leader in spring pressure connection technology that eliminates loose wires resulting from vibration and temperature cycling, while providing highly reliable, corrosion-resistant and maintenance-free connections. Products: DIN-rail, PCB and chassis mount terminal blocks; signal conditioners; the WAGO-I/O-SYSTEM and more.

For more information contact WAGO at 1-800-DIN-RAIL or via e-mail at info.us@wago.com.

Company Name: WAGO Corporation

Phone: 800-346-7245

URL: www.wago.us

Contact Name: Dean Norton

Title: Marketing Manager

E-mail: info.us@wago.com