Fieldbus-Based Power Supply suits explosive hazardous locations.
Press Release Summary: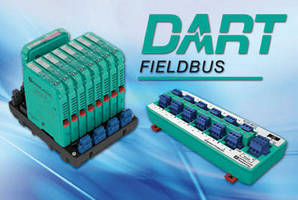 Dynamic Arc Recognition and Termination System (DART) is power supply and control system for fieldbus installations in intrinsic safety environments. Feeding power of 8-50 W, product detects change in current resulting from electrical fault where explosive spark is possible and immediately switches off power. Power is shut off in microseconds, robbing spark of energy needed to ignite hazardous gases. Up to 32 devices are supported in segment, and cable lengths as long as 1,000 m are possible.
---
Original Press Release:

Intrinsic Safety Now Available without Power Limits



New DART System from Pepperl+Fuchs enables process users to take full advantage of the benefits of fieldbus technology in intrinsic safety environments

TWINSBURG, OH - Pepperl+Fuchs introduces the Dynamic Arc Recognition and Termination System (DART). DART is a dynamic power supply and control system for intrinsically safe fieldbus installations that dramatically increases the power available to field devices in explosion hazardous areas, while maintaining intrinsically safe energy levels.

"The DART system supplies enough power to support nearly as many devices as is typically supplied in non-hazardous areas, and can also power field instruments that previously required more power than intrinsically safe solutions could offer," says David Hohenstein, Department Manager, Pepperl+Fuchs. "What makes DART so unique is that it enables process users to fully benefit from the advantages of fieldbus technology in hazardous area applications such as ensuring system availability and lowering total cost of ownership."

Early intrinsic safety solutions included the entity concept and FISCO. These enabled users to connect multiple devices to a single power supply on a fieldbus segment, but the low available power limited the number of devices per segment and reachable cable distance, forcing users to design complex bus topologies with many branches, and making fieldbus more difficult to cost-justify. More recently, the High-Power Trunk Concept (HPTC) provided users with safe installation in explosive environments, with more power supplied to the fieldbus segment while maintaining intrinsic safety at the device connection. DART represents a revolutionary next step in the evolution of intrinsic safety.

"DART is an exciting and superior option because it eliminates the power problem of intrinsic safety with a completely new approach to energy limitation. It allows for considerable higher direct power, while maintaining limitations on intrinsically safe energy via rapid disconnection," explains Hohenstein. "Rather than taking a traditional approach to explosion prevention by limiting the available power to field devices, the DART system detects a fault condition by its characteristic rate of current change, and disconnects power before sparking can start."

During normal operation, a DART power supply feeds full nominal power of 8 to 50 watts - exponentially more power than the approximately two watts that is normally permissible in intrinsic safety environments. Should a fault occur the potential spark remains non-incendive, and DART detects the resulting change in current and immediately switches off the power supply. In microseconds energy from the electrical system is reduced to a safe level, robbing a spark of the energy needed to ignite hazardous gases.

DART applied to fieldbus provides a much higher intrinsically safe power allowance to the trunk so that the segment can support up to about 32 devices per segment - the maximum permitted per segment. This reduces capital costs by eliminating excessive fieldbus infrastructure. Moreover, cable lengths as long as 1000 meters are possible, opening up many application areas to fieldbus technology while maintaining intrinsic safety requirements for all devices and cables, including the trunk line. The higher device count per segment eliminates the problem of having to design complex network topologies with many sub-segments, each requiring its own power supply, junction boxes, and barriers.

DART technology also offers advanced diagnostics to help users rectify problems quickly and ensure system availability. And because DART Fieldbus is designed as a fieldbus infrastructure for existing IS field devices and DCS systems, or for any installation in which an intrinsically safe fieldbus segment is required, it is suitable for both green- and brown field sites.

About Pepperl+Fuchs

Pepperl+Fuchs is a world leader in the design, manufacture, application and support of a broad range of robust solutions to varied process automation markets and applications.

A 2010 Control and Control Design Reader's Choice Award winner for intrinsic safety equipment and purge & pressurization systems, Pepperl+Fuchs has also been named by Control magazine and the ARC Advisory Group as one of the Top 50 Global Automation Companies.

Pepperl+Fuchs, 1600 Enterprise Parkway, Twinsburg, OH 44087; (330) 486-0002; fax: (330) 425-4607; pa-info@us.pepperl-fuchs.com; pepperl-fuchs.us.

Technical Contact: David Hohenstein - 330.486.0002

More from Communication Systems & Equipment