Field Spectroradiometer measures upwelling and downwelling.
Press Release Summary: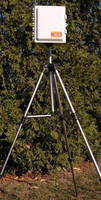 Able to be mounted in towers and simultaneously measure upwelling as well as downwelling, UDS-1100 is suited for surface reflectance measurements where it is inconvenient or impractical to take frequent reflectance panel reference scans. Built-in DARWin Data Analysis software permits automatic reflectance scanning for unattended operation. Along with 320–1,100 nm spectral range, features include ability for users to choose communication modes, power operation, and mounting styles.
---
Original Press Release:

SPECTRAL EVOLUTION Introduces the UDS-1100 Upwelling/Downwelling Field Spectroradiometer



Simultaneous field measurement of upwelling/downwelling can provide spectral information about forest canopies, vegetation, crops, the ocean, and more.



Lawrence, MA – Upwelling radiation is reflected or emitted upward from the earth's surface. Downwelling radiation is directed toward the earth from the sun and atmosphere. Studying their relationship can provide insight into the spectral characteristics of vegetation, soil and crops, forest canopies, ocean studies, climactic changes, environmental studies of ice and snow, hydrologic studies, and more.



The UDS-1100 is perfectly suited for surface reflectance measurements where it is inconvenient or impractical to take frequent reflectance panel reference scans, especially on days with shifting cloud cover. The UDS-1100 simultaneously measures upwelling and downwelling. It can be mounted easily in towers and features built-in DARWin Data Analysis software that permits automatic reflectance scanning for unattended operation.



The UDS-1100

• 320-1100nm spectral range

• Simultaneous measurement of full sky irradiance and surface radiation

• Fully configurable – you choose communication modes, power operation, and mounting styles

• Ideal for tower deployment



All SPECTRAL EVOLUTION spectrometers are equipped with the exclusive DARWin SP Data Analysis software package so you can take advantage of the following analysis features:

• Simultaneously capture and plot upwelling and downwelling with one measurement

• Plot data and review results in radiometric or photometric units

• Single and multiple spectral plots available

• Compare current scans against libraries

• Automatically saves data as an ASCII file to 3rd party software – no extra export function is necessary



The UDS-1100 can be used in a range of applications, for example:

• Vegetation studies including research on forest canopies

• Crop and soil scanning

• Ocean studies of algae and aquatic plants and how much light is available to them

• Water studies researching environmental quality

• Climactic studies of snow, ice, water, and land

• Hydrologic studies

• Studies of aerosols in the atmosphere



For more information on the UDS-1100 please visit: http://www.spectralevolution.com/UDS_1100.html



For information on our spectroradiometers for remote sensing, visit: http://www.spectralevolution.com/portable_spectroradiometer_remote_sensing.html



About SPECTRAL EVOLUTION

Established in 2004, SPECTRAL EVOLUTION is a leading manufacturer of laboratory and handheld portable spectrometers, spectroradiometers and spectrophotometers.  SPECTRAL EVOLUTION spectrometers are used worldwide for many mission-critical lab and field applications in mining, remote sensing, vegetative studies, ground truthing, environmental and climate studies, developing satellite calibrations, and more, due to their reliable, robust, rugged design and user-friendly one-touch features.



SPECTRAL EVOLUTION maintains a facility in Lawrence, Massachusetts which houses design, prototyping, manufacturing and service facilities for the instruments that it markets and sells worldwide, either through direct sales, OEM sales or through distributor agents.



Press contact

Mo Kashdan

Marketing & Sales

978-687-1833

Maurice.kashdan@spectralevolution.com



SPECTRAL EVOLUTION

1 Canal Street, Unit B1

Lawrence, MA 01840 USA

www.spectralevolution.com

More from Electronic Components & Devices