Field Service Management SaaS offers franchise management.
Press Release Summary: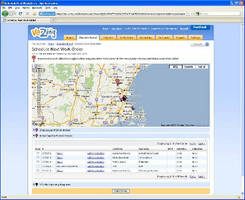 Providing reporting and analysis functionality, VaZing v4.0 helps field service companies analyze their business and maximize productivity. From comprehensive process and workflow customization to job estimating and sales management, job work order scheduling and dispatching, and invoicing with seamless QuickBooks integration, VaZing gives owners and office managers tools they need to build organized, well-managed field service business.
---
Original Press Release:

Insight Direct Releases VaZing Version 4.0



Latest version of Field Service Management Software-as-a-Service Platform adds Powerful
Franchise Management, Estimating and Reporting Capabilities

Boston, MA - Insight Direct, the leading provider of software for companies that need a better way to manage service delivery, today announced the 4.0 release of VaZing - the company's ground-breaking Software as a Service (SaaS) offering.

VaZing 4.0 introduces new franchise management capabilities and robust and easy to use
reporting and analysis functionality that will help field service companies analyze their business and maximize productivity. These new features, along with an enhanced user interface, reduce administrative time and costs and allow companies to focus more time on customer service and profitable growth.

"When House Doctor's was founded 12 years ago, our goal was to provide our franchisees with a recognized, trusted brand along with an operational platform that would allow them to focus on their customers rather than business administration," said Adam Long, of H. D. Franchising Systems. "We have adopted VaZing from Insight Direct after using several other systems, and our franchisees have found its job dispatching, invoice management, seamless QuickBooks integration, and service job scheduling features exceptional. Likewise, as the franchisor, it offers us a number of features that make operations and partner management easier such as the new capability in version 4.0 that will help us conduct franchisee wide reporting and analysis."

"VaZing 4.0 is a major leap forward for our customers and any field service organization that wants to reduce administrative time and focus on higher-value activities" said Derek Gilmore, vice president of engineering at Insight Direct. "The new user interface, more customizable reporting, data organization, and map-based job scheduling assistant features dramatically streamline running operations, and users will be able gather actionable insights to grow their businesses."

VaZing has the features owners and office managers need to build a well-managed field service business. From comprehensive process and workflow customization, to job estimating and sales management, job work order scheduling and dispatching, invoicing with seamless QuickBooks integration, and powerful, customizable reporting analysis, VaZing gives service businesses all the tools necessary to be well-organized, cost and time efficient, and prepared for growth.

Some of VaZing's features include:


Marketing Campaign Management: Track the effectiveness of your marketing efforts.
Find out which marketing activities are producing results. Report on campaign
performance and market to your customers and prospects.


Sales and Estimate Management: Manage sales opportunities, track competitive
pricing, develop formal estimates, automatically convert won estimates into new jobs,
and schedule on-site sales calls complete with driving directions.


Customer Relationship Management: Manage customer information in one place with
real-time access to all customer contact information, job details, service history, and
invoice and payment details. Easily estimate job activity with access to all past and future estimates and jobs with detailed drill-down.


Job and Scheduling Management: Easily design job lists and calendar views based on
the criteria for the jobs you want to view, view the entire lifecycle of a job, setup or edit recurring jobs and schedules, manage schedules and invoicing of jobs that span multiple phases, days, crews and job sites, and quickly apply line item, percentage or fixed amount discounts to work orders and invoices.


Service Dispatching and Google Maps: Reduce windshield time with our Google Map
integration, manage your entire workload from a customizable single screen with click,
drag, drop, and drill-in ease.


Invoice, Billing and Accounting: Easily manage job invoices with VaZing's job close and create invoice ability, transform closed work orders instantly into customizable invoices with your logo and terms, and complete accounts receivable management with due date tracking and aging reports.


Seamless QuickBooks Integration: Easily get up and running with VaZing by
importing and exporting your customers and items lists from QuickBooks. Export
customers, invoices and payments from VaZing into QuickBooks.


Franchise and Multiple Location Operations: Consolidate all locations onto one
platform and all data into one database with user security settings that let you decide who can access what.

About Insight Direct

Insight Direct is a leading provider of field service software. Our software solutions helps you manage all aspects of your business - including scheduling, dispatching, accounting and inventory management - so you can sell more jobs, work more efficiently, get paid faster, and analyze your business in new ways. We've been in business for more than a decade, have more than 6,000 customers, and continually reinvest in our software to keep your business running smoothly. Our experience, combined with the unparalleled support offerings found in our Interactive Member Center, help you get started quickly and get the most out of your investment. To learn more, visit www.insightdirectinc.com and www.vazing.com.


More from Electrical Equipment & Systems