Field Assembly Connectors target photovoltaic industry.
Press Release Summary: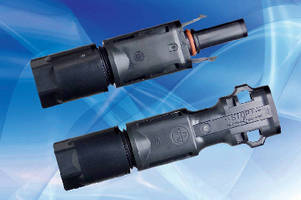 Available for 4–6 mm² cable cross sections, Y-Sol4 F.A.T. Connectors have spring clamping mechanism for clamping of stripped cable in field, permitting assembly without crimping. Connectors come in versions for thin wire outer diameters of 4.5–6.1 mm as well as larger cable diameters from 6.1–7.6 mm. Versions are also available for cable cross-sections from 1.5–3.5 mm². Featuring IP68 protection class, all have 1,000 V TUV rating and current rating up to 47 A.
---
Original Press Release:

Y-Sol4 F.A.T. with New Versions



Munich – Yamaichi Electronics presents new versions of the field assembly F.A.T. connector in the Y-Sol4 series.



Cost pressure in the photovoltaic industry is increasing. That's why Yamaichi Electronics has developed another connector version for 4 to 6mm² cable cross-sections. They extend the successful Y-Sol4 F.A.T. product line. The Y-Sol4 F.A.T. has a spring clamping mechanism for simple clamping of stripped cable in the field. This permits quick, effective assembly without crimping.



The new versions of the Y-Sol4 F.A.T. are specifically suited for thin wire outer diameters of 4.5mm to 6.1mm. Thin wires are popular in photovoltaic installations today because they are more cost-effective due to material savings. The existing versions continue to cover the range of larger cable diameters from 6.1mm to 7.6mm.



Versions are now also available in the product line for cable cross-sections from 1.5mm² to 3.5mm². They are used for thin film installation, for example.



All the new versions are based on the familiar concept of tool-free field assembly. This permits the quick, reliable and cost-effective installation in the field without additional special tools.



All the familiar technical data still apply, including the IP68 protection class, the 1000V TÜV rating and a current rating of up to 47A, guaranteeing a high-quality, reliable product.



For questions about this product, please write to sales-de@yamaichi.eu



About Yamaichi Electronics

Yamaichi is a market leader for test & burn-in sockets, connectors and connection systems – areas in which reliability and function safety are essential for the success of the whole project. Yamaichi has established itself very quickly on the world market as a manufacturer of high-quality and reliable components for ambitious applications in the following sectors: photovoltaic, automotive, medical, semiconductor, telecommunications infrastructure, industrial automation, mobile computer technology, mobile telephones, GPS systems, printers, digital cameras, camcorders, as well as electronic devices in the retail trade, industry and electronics.

More from Fluid & Gas Flow Equipment