Fibertech to Premier Rhino Manholes at the Water Environment Federation Technical Exhibition and Conference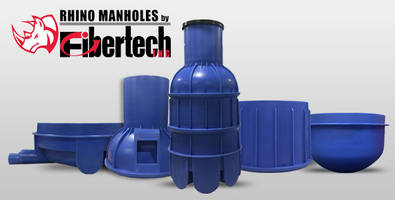 Made of rotationally molded polyethylene plastic, Rhino Manholes by Fibertech offer a durable, lightweight option for professionals in the sewer and waterworks industries.
CHICAGO, IL – On Monday Rhino Manholes by Fibertech will be introduced at The Water Environment Federation Technical Exhibition and Conference (WEFTEC)—the largest annual water quality event in the world.
Rhino Manholes by Fibertech provide the highest level of reliability for applications in the sewer and waterworks industries, including sewer, wastewater, landfill leachate, storm water collection systems, and below grade utility inspection chambers.
Constructed from 100% virgin polyethylene plastic, these manholes offer a wide range of chemical resistance to acids and other organic compounds that can degrade manholes manufactured from traditional materials. Due to this resistance, damage from hydrogen sulfide, sulfuric acid and other aggressive chemicals does not occur, resulting in decreased maintenance, fewer replacements and increased savings.
These rotationally molded plastic manholes have been field tested under a variety of conditions to meet exacting design and quality standards for long life, functionality, and corrosion resistance, and have been proven to outlast their concrete, steel, and fiberglass counterparts.
The polyethylene plastic Rhino Manholes from Fibertech are durable and lightweight allowing an easier installation process, which saves both time and money. Meanwhile, their watertight gasket seal prevents infiltration and exfiltration. These manholes are also designed to be flotation resistant with anti-flotation rings and molded in ribbing to anchor them to the ground. The Rhino Manhole by Fibertech offers a durable and lightweight alternative to concrete, steel, and fiberglass manholes and can be configured to accommodate a variety of applications.
About Fibertech: With over 20 years in the plastics industry, Fibertech continues to expand their product line and strengthen their molding abilities with cutting edge technology. Fibertech is looking forward to entering into the sewer & waterworks industry with the introduction of their cutting-edge Rhino Manholes at the WEFTEC and the opportunities it will bring.
Media Contact
Natalie C. Young
(800) 304-4600
nyoung@fibertechinc.net 
More from Optics & Photonics