Fiberglass Tanks target oil and gas exploration markets.
Press Release Summary: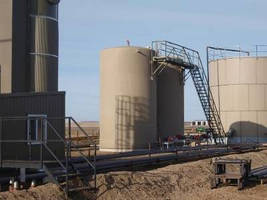 Designed for water containment in environments where human and environmental safety is a high-risk concern, TortisTank™ Aboveground Saltwater Fiberglass Tanks hold up in harsh environments for 20 years or more without fractures or delamination. Proprietary formulation of premium grade resin and Advantex® E-CR glass is key to maximum longevity. Available in range of sizes and colors, TortisTanks meet or exceed all pertinent oil and gas industry standards, including API Spec 12P.
---
Original Press Release:

MFG Enters Market for Industrial Use Fiberglass Tanks



- First product offering spurred by need for a stronger, safer water containment solution for oil and gas exploration -



ASHTABULA, Ohio, -- The Molded Fiber Glass Companies (MFG) announced today that its newest company ­- MFG Tank ­- has launched a proprietary product aimed at the oil and gas exploration market in North America. The new TortisTank(TM) line of aboveground fiberglass tanks is designed specifically for water containment in environments where human and environmental safety is a high-risk concern.



In 2012 Molded Fiber Glass Companies (MFG) was made aware of leakage problems with current generation tanks that were causing costly repair and cleanup problems in the oil exploration community. Safety risks from electrostatic hazards were also causing losses and concerns. TortisTank is the result of a 2-year engineering effort to produce a saltwater (brine water) tank that addresses these problems and raises the standard for safety, strength and productive lifespan. Improvements in the design, the resins, the glass reinforcement, as well as the manufacturing process, yielded a fiberglass tank that holds up in extremely harsh environments for 20 years or more without fractures or delamination.



The manufacturing technology used by MFG Tank is filament-winding process, where continuous, resin-impregnated fibers are wound on a rotating mandrel in a predetermined pattern, providing maximum control over fiber placement and uniformity of structure. A proprietary formulation of premium grade resin and Advantex® E-CR glass is key to the TortisTank's superior longevity in contrast to traditional tanks. TortisTanks meet or exceed all pertinent oil and gas industry standards, including API Spec 12P.



TortisTanks are available in a range of sizes and colors and can be customized with common appurtenances to satisfy the individual customer's battery needs.



MFG Tank is headquartered and manufactures its products in Gainesville, TX at a facility co-located with MFG Texas.



The company is currently accepting orders and has a number of units installed at customer sites.



More information on the company can be found at www.mfgtank.com.  Facility tours can be arranged by appointment.



About MFG Tank

MFG Tank was started in 2012 to provide high performance fiberglass tanks for industrial applications. In March 2014 the company introduced TortisTank(TM), a safer, stronger saltwater containment tank for oil and gas field operations. MFG Tank is the first MFG operation to employ the fiberglass filament winding process, expanding the technology breadth of one of North America's most diversified fiberglass molding companies. More information on the company can be found at www.mfgtank.com.



About Molded Fiber Glass Companies

Molded Fiber Glass Companies (MFG) is a leader in the field of reinforced plastics and composites, serving diverse markets with a variety of composite material systems. The company has 16 operating entities in the United States and Mexico, strategically focused to supply high value, high quality products and manufacturing services for applications such as wind energy, automotive, heavy truck, defense, construction, material handling and water treatment. The company is headquartered in Ashtabula, OH and is privately owned.



Web Site: http://www.moldedfiberglass.com

More from Sensors, Monitors & Transducers