Fiber Placement System handles wind energy and aerospace parts.
Press Release Summary: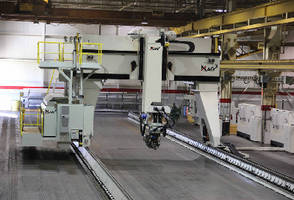 Featuring vertical gantry design, VIPER® 7000 lays 32 tows of carbon or glass-fiber prepreg tape, utilizing tow widths of 0.125, 0.25, or 0.5 in. to create total band width up to 16 in. Machine accommodates fixed floor-mounted or rotation tooling in OML or IML configurations. With segmented compaction roller, backing film removal, and individual cut-clamp-restart head, system can change ply angle on-the-fly, maintain constant angle on complex surfaces, and add or cut individual tows at any time.
---
Original Press Release:

MAG Introduces New VIPER® Gantry Fiber Placement System



MAG introduces new VIPER® gantry fiber placement system for supersize wind energy and aerospace parts - first unit acquired by Astraeus Wind Energy

New vertical rail-type design allows fiber placement on floor-mounted tools. Astraeus unit to be producing parts by end of February.

MAG's new VIPER® 7000 vertical gantry fiber placement system builds on the company's wide range of modular product platforms, bringing the advantages of unlimited part length and multiple work zones to supersize wind energy and aerospace part production. The first VIPER 7000 unit will be available for making parts this month, and has already been sold to Astraeus Wind Energy for automated layup of wind turbine blades and other large wind energy parts.

The VIPER 7000 gantry system is easily sized for any part length, making the system ideal for blade shells, spars, spar caps and shear webs, as well as aerospace parts like stabilizer skins and wing skins. "We designed this system to bring cost and processing advantages to wind energy and aerospace fiber placement, while incorporating the latest, industry-leading head technology that is proven to deliver the fastest floor-to-floor times in part production," said Randy Kappesser, VP, MAG Composites Technologies. "The VIPER 7000 expands MAG's industry-leading range of modular product platforms."

Eaton Rapids, MI-based Astraeus, which purchased the first VIPER 7000, is a collaboration between MAG and partners Jeff Metts and Roger Cope formed in 2009 with the mission of revolutionizing wind turbine component production through specially designed CNC modules and new automated technology for composite part production. The system is located in Port Huron, MI.

The new gantry system introduces a wide range of processing advantages to fiber placement work. The system consumes less overall floor space than a conventional system using mandrel-mounted tooling. The VIPER 7000 accommodates both fixed floor-mounted or rotation tooling in either Outer Mold Line (OML) or Inner Mold Line (IML) configurations. The gantry platform is available in low-rail or in-floor styles, and can be any length required, in addition to mounting multiple gantries if desired. Options include a dockable head and 32-creel magazine load.

The VIPER 7000 Fiber Placement System precisely lays 32 tows of carbon or glass-fiber prepreg tape, utilizing tow widths of 3.25, 6.35 or 12.7 mm (0.125, 0.25, or 0.5 inch) to create a total band width up to 406 mm or 16 inches. With many patented features, such as segmented compaction roller, backing film removal, and individual cut-clamp-restart head, the VIPER 7000 can change ply angle "on the fly," maintain a constant angle on a complex surface and add or cut individual tows at any time. Programmable processing options include fiber steering, parallel path, fixed path and limited parallel path.

Combined with a CM100 controller and MAG's ACES® software for offline programming and simulation of the composite lay-up process, the VIPER 7000 provides a closed-loop production suite of hardware and software. ACES software allows complete pre-production process evaluation, determination of process limits, material requirements and production rates. It also provides feedback on part producibility and process productivity, as well as output of the part program for the VIPER. Extensive graphic simulation capability allows layup and process optimization, collision avoidance, and determination of fiber paths. ACES is compatible with CATIA V4 and V5, and runs on a Windows® PC.

The VIPER 7000 is also highly capable of aerospace part production. The system automatically adjusts the fiber band width to produce wrinkle-free parts while placing material on complex contours and around openings (doors, hatches, etc.). MAG pioneered automated composites processing for building aerostructures, and its systems are widely used in major worldwide aircraft programs, with over 125 installations globally, nearly 40% of them in Europe and Asia.

In addition to offering the fastest production proven composites machines, MAG has 24 worldwide facilities providing system build and integration, processing expertise, and service for its broad range of machine tools and automated systems. Fifteen of these facilities are located in the European and Asian regions, close to the rapidly growing base of customers there.

About MAG

MAG is a leading machine tool and systems company serving the durable goods industry worldwide with complete manufacturing solutions for metal cutting and composites applications. With a strong foundation based upon renowned brands such as Boehringer, Cincinnati, Cross & Trecker, Ex-Cell-O, Fadal, Forest Liné, Giddings & Lewis, Hessapp, Honsberg, Hüller Hille, Lamb, Modul and Witzig & Frank, MAG is recognized as the preeminent provider of tailored production solutions based on state-of-the-art technology. Key industrial markets served include aerospace, automotive and truck, heavy equipment, oil and gas, rail, solar energy, wind turbine production and general machining.

With manufacturing and support operations strategically located worldwide, MAG offers comprehensive lines of equipment and technologies including turning, milling, hobbing, grinding, honing, systems integration, composites processing, maintenance, automation and software, tooling and fluids, and core components.

For more information about MAG, please visit: www.mag-ias.com

More from Electronic Components & Devices