Fiber Optic Transceivers offer 10-bit digital processing.
Press Release Summary: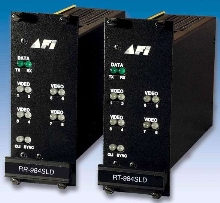 Multimode 984 series and singlemode 984SL series 8-channel video transceivers employ data multiplexing capabilities for digital networking. With built-in RS485 protocol, units offer RS422/485 data compatibility for camera and system control; RS485 data can be configured on 2 (half-duplex) or 4 (full duplex) wires and terminated or unterminated with or without bias. Designed to be completely transparent, units transmit uncompressed video channels.
---
Original Press Release:

American Fibertek Enhances Digital Fiber Optic Transceiver Line


New 8-Channel System Employ Multiplex Technology for Digital Networking.

Las Vegas, NV (April 6, 2005) - Building on the success of its well established and comprehensive line of fiber optic digital video transmission devices, American Fibertek, Inc. (AFI) is showcasing its new 8-channel, 10 bit digital video transceivers here at ISCW 2005. The 984 (multimode) and 984SL Series Digital Transceivers (singlemode) offer uncompromised performance with advanced data multiplexing capabilities.

AFI's digital fiber optic transceivers feature 10 bit digital processing to assure the highest levels of signal integrity with significantly higher grey scale resolution and noticeably improved signal to noise ratio. The functionality of the product is further augmented by its RS422/485 data compatibility feature for camera and system control.

"The high performance afforded by our digital fiber optic transceivers allows system designers to take full advantage of today's high performance cameras and recorders over long distances with virtually no signal degradation," said Jack Fernandes, President and CEO of American Fibertek, Inc. "As a result, AFI's digital transceivers help enhance the overall performance of security and surveillance systems as a result of their high signal quality and communications capabilities."

Standard features include built-in RS485 protocol, allowing multiple transmitter devices to reside on the same wire pair. The RS485 data can be configured on two (half-duplex) or four (full duplex) wires and terminated or unterminated with or without bias. As well, seven of the compact-sized units can be installed in an American Fibertek SR20/2 sub-rack providing a high density total of 56 channels of video and 7 channels of data.

American Fibertek's 984/984SL Series Digital Transceivers are fully compatible with NTSC and PAL formats, and RS170A and RS343A standards. Video channels are transmitted uncompressed providing real-time signal performance. The units are designed to be completely transparent and do not require any adjustments or maintenance in the field. Diagnostic indicators provide a quick visual indication of system status. The units are also compatible with American Fibertek's new Afinety Remote Monitoring System (see related release).

For more information on this product or American Fibertek's innovative line of fiber optic products call 877-234-7200, e-mail AFI@americanfibertek.com , or visit American Fibertek's web site at www.americanfibertek.com .

American Fibertek, Inc. is a leading supplier of innovative fiber optic communication transmission solutions for video, data, audio, audio/video and cable system applications. With two decades of experience in the fiber optics industry, American Fibertek, Inc. has a renowned history of innovation that includes introduction of the industry's first rack card and card cage systems, the first mini modules for color transmission, the first fiber optic transceivers with AGC, and first to offer bi-directional fiber systems for advanced CCTV systems devices.

More from Electronic Components & Devices