Fiber Optic Switch features MEMS technology.
Press Release Summary: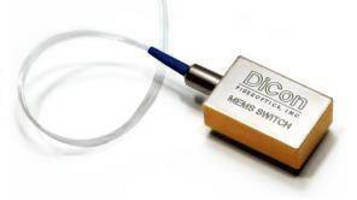 Measuring 25 x 16 x 8.5 mm, Visible MEMS 1xN Optical Switch is available in many configurations, can be made with standard or specialty fibers, and is suitable for integration in biomedical applications. Unit can operate anywhere from visible to near-infrared wavelength range with over 1 billion cycles and no failures. Other applications include fluorescence microscopy, OCT, and spectroscopy.
---
Original Press Release:

DiCon Fiberoptics Unveils Visible MEMS 1xN Optical Switch



Richmond, CA-DiCon Fiberoptics announces the release of a visible MEMS 1xN fiber optic switch, based on their proven MEMS technology. The optical switch is available in many switch configurations and can be made with standard or specialty fibers. Dependable and compact in size, these fiber optic switches are ideal for many biomedical applications.

"The visible MEMS 1xN optical switch has the advantage of being able to operate anywhere from the visible to the near-infrared wavelength range, making it optimal for applications such as fluorescence microscopy, OCT or spectroscopy. It is based on an enhancement of DiCon's traditional MEMS optical switches for telecommunications to offer all the benefits of a product made for high volume," said Robert Schleicher, DiCon's Vice President of Product Development.

The biggest advantages for biomedical companies are the optical switch's compact size and dependability. For example, DiCon's standard MS1 housing is only 25 mm x 16 mm x 8.5 mm, allowing the optical switch to be integrated effortlessly into a small biomedical product. In addition, these fiber optic switches are highly dependable and have been shown to operate for over 1 billion switch cycles with no failures, demonstrating their reliability in critical applications.

Available in configurations from 1x2 to 1x8 in the same package, DiCon also has the ability to offer switches in larger port sizes, up to 1x64 for 50 µm fiber and up to 1x16 for 62.5 µm fiber. In addition to standard fiber, DiCon can also build these fiber optic switches with specialty fibers upon request, to fit seamlessly within a customer's application.

DiCon will be showcasing the visible MEMS 1xN optical switch at Photonics West and BIOS 2010 in San Francisco, CA (January 23-28, 2010). Visit DiCon at Booth #5435. For more information about the optical switch, please visit www.diconfiberoptics.com/products/prd_switches.php.

About DiCon

DiCon Fiberoptics is an established leader in the optical communications industry, specializing in high quality optical components, integrated modules, and test equipment. Founded in 1986, DiCon has built a broad portfolio of cutting-edge products that filter, split, attenuate, switch, combine, and monitor light. An innovator of micro-electromechanical systems (MEMS), thin-film optical coatings, micro-optic design, and advanced packaging, DiCon's products are used in a broad range of applications including defense, aerospace, industrial manufacturing, and biomedical industries.

For more information about DiCon, please visit www.diconfiberoptics.com.

More from Sensors, Monitors & Transducers