Fiber-Optic Switch allows use of 2 separate ports.
Press Release Summary: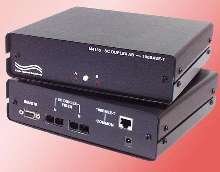 QuickSwitch 4185 Fiber Optic Switch/Converter allows user to access 2 separate fiber-optic 100 Base FX ports from 100 Base TX Fast Ethernet port. Fiber optic/twisted pair copper conversion is built in and unit is compliant with 802.3u 100 Base TX/FX standard. Ports A and B are 1300 nm, SC Duplex, Multimode, 100 Base FX fiber optic ports. COMMON port is 100 Base TX Fast Ethernetport. Front-panel button changes switch position and LEDs display switch-position status.
---
Original Press Release:
QuickSwitch 4185 Fiber Optic Switch/Converter

The QuickSwitch 4185 Fiber Optic Switch / Converter allows the user the capability of accessing two separate fiber optic 100 Base FX ports (ports A and B) from a 100 Base TX Fast Ethernet port (COMMON port). The fiber optic / twisted pair copper conversion is built in! The unit is fully compliant with the 802.3u 100 Base TX/FX standard.

Ports A and B are 1300nm, SC Duplex, Multimode, 100 Base FX fiber optic ports. The COMMON port is a 100 Base TX Fast Ethernet port. The selected fiber optic port will convert and pass data to and from the 100 Base TX COMMON port. The internal circuitry insures isolation between the A and B devices/networks. A great solution for conversion and fallback applications.

A front panel button changes the switch position eliminating the need to plug and unplug fiber patchcords thus minimizing connector wear. Switch position status is displayed on the front panel LEDs. The unit also includes an RS232 serial security enhanced Supervisory Remote Port. Upon proper authentication, a terminal or computer in terminal mode connected to this port can communicate with the unit, determine its status, change the switch position as desired, and/or lockout front panel switching capability. A modem can also be connected to this port for remote access to the switch. Access to the Supervisory Remote Port feature is password protected. An optional graphical user interface (GUI) software is also available for use with a computer running Windows 95/98 or NT workstation.

For more information contact:

Electro Standards Laboratories

36 Western Industrial Drive

Cranston, RI 02921

Tel: 401-943-1164

Fax: 401-946-5790

E-mail: eslab@ElectroStandards.com
More from Optics & Photonics