Fiber Optic Sensor accurately counts small objects.
Press Release Summary: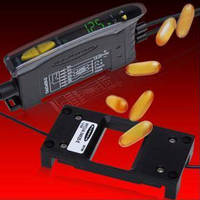 Comprised of D10 Expert sensor paired with PFVCA fiber optic arrays, D10 Expert(TM) Small Object Counter creates 2D sensing field in which objects are detected upon breaking any point of array. Arrangement facilitates alignment and marginalizes object positioning control, ensuring consistent counting with response times as fast as 150 µsec. Features include Dynamic Event Stretcher, which prevents double-counting; selectable threshold with automatic compensation; and self-diagnostics.
---
Original Press Release:

Banner Fiber Optic Sensor Counts Small Objects-Such as Pills, Seeds, and Miniature Components-Quickly and Accurately



Minneapolis, MN-September 10, 2009- Banner Engineering Corp. introduces the D10 Expert(TM) Small Object Counter, delivering high-performance small object counting to solve a variety of applications, including:

Pharmaceutical pill, tablet and gel cap counting

Agricultural seed counting

Process verification

Verifying product flow from the nozzle of a chute

The Small Object Counter consists of a specialized D10 Expert sensor paired with preconfigured PFVCA fiber optic arrays, creating a two-dimensional sensing field in which objects are readily detected upon breaking any point of the array. This arrangement makes alignment easier and object positioning control less critical than with traditional, single-point emitter and receiver fiber optic assemblies-assuring reliable, consistent small object counting with response times as fast as 150 microseconds.

Three major features-Dynamic Event Stretcher (DES), Automatic Compensation and Health Mode Alarm-make the Small Object Counter an ideal solution for challenging small object counting applications:

DES prevents double-counting translucent gel caps and similar small objects, which may fool alternative sensing solutions. Both the front and end edge of the object breaking the fiber optic array could activate a traditional sensor, thus counting the object twice. With DES, the sensor will detect the front edge of the object and then stretch the duration of that detection event, giving object time to pass through the array being counted again.


Automatic Compensation allows the sensor to adapt the switching threshold to its environment in real time. Small changes due to dust or contamination on the fiber optic array or small changes caused by ambient temperature shifts are filtered out by the microcontroller, providing consistent, repeatable results.


Health Mode Alarm monitors the sensor's performance and alerts operators when preventative maintenance should be scheduled to ensure continuous, reliable operation.
The standard PFCVA fiber assemblies recommended for use with the D10 Small Object Counter will solve many counting applications. The fibers can also be used as test platforms to learn about application requirements. If the preconfigured PFVCA fiber optic arrays do not solve a specific application, a custom fiber optic assembly can be requested by contacting a Banner application engineer.

Features. These features of the Small Object Counter make it particularly useful in the above applications:

Easy-to-set selectable threshold with Automatic Compensation to compensate for dust or contamination on the fiber optic array and for ambient temperature changes

Dynamic Event Stretcher (DES) to ensure one output per event-especially important for gel caps or objects with holes

Single discrete output plus Health Mode output to indicate preventative maintenance is required

16-bit microcontroller and 12-bit Analog-to-Digital converter for high-performance, low-contrast sensing

Easy-to-read, user configurable, 4-digit display for Signal Level, Percentage Blocked or Health Mode readout, plus indicators for a continuous readout of operating status

Sleek, ultra-slim 10 mm housing that mounts to a standard 35 mm DIN rail

Three-mode power and speed selection to optimize detection reliability

Visible red (680 nm) sensing beam

Learn more about the Small Object Counter on BannerEngineering.com.

About Banner. Banner Engineering is the world's leading manufacturer of fiber optic assemblies, photoelectric and ultrasonic sensors, vision sensors, wireless networks, electronic machine guarding systems and precision measurement systems.

For further information, contact Banner Engineering Corp., 9714 Tenth Avenue North, Minneapolis, MN 55441. PH: 888.373.6767 (Toll-free North America), or 001.763.544.3164 (International). FAX: 763.544.3213. Email: sensors@bannerengineering.com. E-commerce: www.bannerengineering.com/buyonline Web: www.bannerengineering.com.

More from Software