Fiber Optic Products suit military/industrial applications.
Press Release Summary: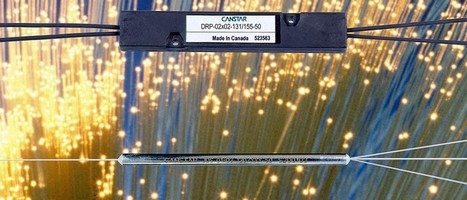 Based on Canstar(TM) technology, FCI Fiber Optics product line is comprised of fiber optic multimode/single-mode couplers, splitters, taps, wavelength division multiplexers (WDMs), cable assemblies, and adaptors. Couplers are offered for various design specifications, including one-in, many-out couplers; WDMs; and one-in, 2-out couplers available as even- or ratio-split. FCI attenuators, or one-in, one-out couplers for attenuating all wavelengths, are also available.
---
Original Press Release:

FCI Fiber Optic Products Built on Canstar® Line of Optical Couplers and Cable Assemblies



ETTERS, PA. (September 18, 2006) - FCI, a leading supplier of connectors and interconnect systems, has launched FCI Fiber Optics, a product line of fiber optic couplers, splitters, taps, wavelength division multiplexers (WDMs), cable assemblies and adaptors based on proven technology from Canstar(TM). With this wide range of product offerings, FCI Fiber Optics is able to accommodate applications ranging from data communications for military and commercial aircraft to ignition control on power generators.

Canstar has been a leader in the fiber optics industry since 1978, when the company was the first to develop optical coupler technology. Since then, Canstar has become synonymous with optical coupling and fiber optic technology. In June 1997, FCI Canada, Inc. acquired Canstar Optical Coupler from Alcatel Canada, Inc. and continues to develop fiber optic products and technology.

"FCI is able to meet the high performance demands set forth by our clients by combining Canstar's proven technology with FCI's expertise in design flexibility," said Mark Jarman, product manager for FCI. "This makes the FCI Fiber Optic line ideal for the military, aerospace, and commercial sectors, including industrial, data, and communication optical devices."

The FCI Fiber Optic line of products includes several types of couplers for various design specifications including one-in, many-out couplers; WDMs; and one-in, two-out couplers available as even-split or ratio-split. Even-split couplers include traditional splitters, y-junction couplers and 50:50 couplers, while ratio-split couplers include access and tap couplers. FCI attenuators, or one-in, one-out couplers for attenuating all wavelengths, are also included in the product line.

Couplers are available in multimode and single mode styles. Multimode couplers enable users to transmit data through the optical fiber via multiple modes simultaneously. These multimode couplers operate over 600 to 1600nm and in visible light from 400 to 700nm. Several fiber widths are available for different applications, including 50/125/250mm for telecom standards, 62.5/125/250mm for datacom standards, 100/140/171mm for military and aerospace and 200/240/500mm for sensors and medical and industrial applications.

Single mode couplers are available for specific wavelengths (850, 980, 1300, 1310 or 1550nm) in a single or dual window design. The SMF-28(TM) couplers are designed for wavelengths greater than 1250nm (9/125/250), and the Flexcor(TM) couplers are for wavelengths less than 1250nm.

Typical pricing for the Fiber Optics line is dependent on the nature and application of the product. Samples are available for delivery, with production lead times from stock to 12 weeks.

For more information about FCI Fiber Optics, contact FCI at 825 Old Trail Road, Etters, PA 17319-7883; call 800-237-2374, email at electronics.us@fciconnect.com, or visit FCI on the web at www.fciconnect.com/fiberoptics.

About FCI
With operations in 30 countries and a turnover of 1.27 billion euros in 2005, FCI is a leading connector manufacturer. Its 13,000 employees are committed to providing their customers with high-quality and innovative products for a wide range of consumer and industrial applications.

For more information: www.fciconnect.com

Related