Fiber-Optic Multiplexer transmits 16 real-time video channels.
Press Release Summary: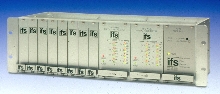 Digital, 8-bit VT/VR71630 transmits video signals that exceed RS-250C medium-haul performance specifications. It offers loss budget of 23 dB, 60 dB signal-to-noise ratio, and operating temperature range of -40 to 74 deg C. Unit can transmit distances up to 50 miles, making it suitable for use in CCTV surveillance applications as well as Video Detection Systems.
---
Original Press Release:
IFS Introduces Digital 16 Channel Video Multiplexing Equipment

International Fiber Systems Now Offers the Most Complete Line of Digitally Encoded Multiplexing Equipment of any Fiber Optic Equipment Manufacturer

NEWTOWN, CT., April 5, 2002 -International Fiber Systems Incorporated (IFS), a leading manufacturer of fiber optic transmission equipment, has announced the introduction of its VT/VR71630 8-bit digital 16 channel video multiplexing
equipment. These new digital models provide much higher video performance than competing analog models. The VT/VR71630 Series can transmit video signals that exceed the RS-250C medium-haul performance specification.

The IFS VT/VR71630 multiplexing series offers true digital performance that transmits up to 16 real-time video channels with
a consistent signal-to-noise ratio up to the maximum optical path loss of the system. This provides optimum video performance
compared to the gradual signal degradation that occurs with common analog modulation fiber optic multiplexers currently on
the market. "With the introduction of our digitally encoded 16 channel multiplexer, IFS now offers system designers an ever
increasing means of maximizing the bandwidth of their optical fiber." said Richard Malstrom, Vice President of Sales. "With
this new multiplexer it is now possible to transmit and receive 16 channels of 8-bit quality digitally-encoded video on one
single-mode optical fiber. If the system designer only needs eight, four or two channels of video, as long as the fiber is in place, IFS now has a digital multiplexer to fit their need." The VT/VR71630 video multiplexer offers true real-time 8-bit digital video performance as compared to some other manufacturers' fiber optic video multiplexers that claim to offer high-quality video.
According to Malstrom, "Most analog multiplexers are unable to meet the RS-250C Medium Haul performance standard that the VT/VR71630 does, and usually can only meet the lower Long-Haul standard."

With the introduction of the 16-channel VT/VR71630, IFS is now able to offer the benefits of digitally encoded video in a
number of different models. The two channel multiplexer, the VT/VR7200 series; a four channel multiplexer, the VT/VR7400
series; and an eight channel multiplexer, the VT/VR7800 series and now the VT/VR71630 series sixteen channel multiplexer
round out the IFS digitally-encoded multiplexer line. According to Malstrom, "With two, four, eight and now 16 channel multiplexers, IFS now has a digital multiplexer for almost any requirement where multiple channels of video are needed to be
transmitted over fiber."

The VT/VR 71630 model offers a loss budget of 23 dB, a 60 dB signal-to-noise ratio, and an operating temperature range of
-40 degrees C to +74 degrees C and can transmit distances up to 50 miles. This product is ideal for use in CCTV surveillance applications for commercial and industrial security as well as highway applications such as Video Detection Systems (VDS) within the Intelligent Transportation Systems market. Added Malstrom, "With the trend toward digital video cameras and digital video recording, using a digital fiber optic transmission product helps maintain signal integrity from the
camera to the head-end resulting in a very high performance system. The result is video clarity required on today's higher
end systems."

The VT/VR71630 series is part of the IFS progression toward digital transmission products. Along with the IFS VT/VR71630 series, IFS offers one of the most complete and well-engineered lines of digital products in the industry. The IFS digital product line includes the VAT/VAR14130 providing 10-bit digital broadcast quality video with 20-bit CD quality stereo audio, VDT/VDR 14130WDM Video with bi-directional data, the AT/AR 7000 20-bit CD quality stereo audio link, the VDT/VDR 14330 series 10-bit digital video transmitter and receiver with three full duplex data channels and the D19130SHR digital Self-Healing-Ring interface for RS-232, RS-422 and RS-485 data protocols and many others. The release of the VT/VR71630 series as well as our other digital products is a result of our belief in the superiority of digital transmission in regards to signal quality. IFS will continue to offer the industry's most complete line of analog fiber optic transmission products as well.

Established in 1989, IFS is at the forefront of advances in fiber optic technologies. The company offers more than 300 analog
and digital fiber optic products for commercial and industrial applications, which include CCTV, access control, data
transmission, fire and alarm system applications, intelligent transportation systems, facility and building automation, and
broadcast systems.

For more information, please contact Richard Malstrom at 203.426.1180; or e-mail IFS at sales@ifs.com. You may also find IFS on the World Wide Web at www.ifs.com. Electronic files of this release and photos of these products are available by
contacting the IFS Marketing Department via e-mail at skiph@ifs.com.

IFS and the IFS logo are registered trademarks of International Fiber Systems, Incorporated. Additional company and product names may be trademarks or registered trademarks of the individual companies and are respectfully acknowledged.

International Fiber Systems, Inc. - 16 Commerce Road - Newtown, CT 06470 USA TEL (203) 426-1180 - FAX (203) 426-3326 - www.ifs.com - sales@ifs.com
Related