Sensors / Detectors / Transducers
Fiber Optic Microswitch suits MRI and industrial applications.
Press Release Summary: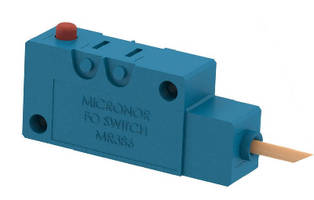 Featuring V15-style form factor, MR386 ZapFREE® Microswitch comes in Industrial model with extended temperature range of -40 to +80°C and non-metallic MRI Safe model with temperature range of -5 to +60°C. MRI model is designed for use inside bore and is magnetically invisible to imaging process. Non-electrical, totally passive sensors provide EMI and RFI immunity, isolation from high voltage and lightning, inherent safety in explosive atmospheres, and can operate over distances up to 1,500 m.
---
Original Press Release:

Micronor Will Introduce World's First Fiber Optic Microswitch at Sensors Expo 2016



Industry Standard V15-style Form Factor Offered in Non-Metallic and Industrial Versions



Camarillo, CA – At Sensors Expo 2016 (June 22-23, San Jose, CA USA), Micronor will unveil the MR386 ZapFREE® Microswitch, the world's first fiber optic micro switch, purposely designed to meet the challenging requirements of MRI, medical and industrial applications. Engineers will appreciate the product's interchangeability with the familiar, industry standard V15-series electrical micro switch.



The Micronor MR386 outperforms conventional electrical micro switches and limit switches.  The entirely non-electrical, totally-passive sensor provides EMI and RFI immunity, isolation from high voltage and lightning, inherent safety in explosive atmospheres, and can operate interference-free over very long distances – up to 1500 meters.



Two models are offered - Industrial and MRI Safe. The Industrial model targets the most challenging environments and features an extended temperature range of -40ºC to +80ºC.  The non-metallic MRI Safe model was purposely designed for use inside the bore and is magnetically invisible to the imaging process.  With a temperature range of -5ºC to +60ºC, this model targets medical, hospital, laboratory and instrumentation applications. 



On Wednesday, June 22, at 11:45am, Micronor will be presenting a live product demonstration in the Sensors Expo Live Theater.



In operation, the MR386 Microswitch connects to an MR380 series Controller via an industry-standard Duplex LC 50/125µm or 62.5/125µm multimode fiber link – up to 1500 meters.  Two types of Controllers are offered - DIN Rail Mount model for installation in control cabinets and a low-cost, compact OEM PCB model to embed directly into the manufacturer's product. The Controllers offer a generous optical loss budget, allowing for complex routing and daisy chaining of multiple switches. Both Normally Open and Normally Closed optical configurations are available depending on the nature of the application.



For ATEX applications and similar hazardous locations, the MR386 Microswitch is classified as a "simple mechanical device" and can be installed in any manner of explosive atmosphere – mines, gas and dust.  The Controller outputs "inherently safe, optical radiation" and is approved for EPL Mb/Gb/Gc/Db/Dc applications.



For Machine Safety applications, the controller defaults to the emergency state when: (1) the optical path is blocked, (2) in case of a broken fiber, (3) a fiber is disconnected, or (4) loss of power to the controller link.



In small quantities, the MR386 Microswitch is $350, the MR380-0 OEM Controller is $250, and the MR380-1 DIN Rail Mount Controller is $540 - with typical lead time of stock to 2 weeks. Discounts are available for OEM applications.



About Micronor:

Since 2003, Micronor Inc. has been a forerunner of innovative Fiber Optic Kinetic Sensors for both industrial and medical applications. Products include Fiber Optic Position Sensors, Rotary Encoders, Linear Encoders, Signaling and Temperature Sensors. These sensors are designed for applications where EMI immunity, high voltage isolation, inherent safety, MRI compatibility or long distance operation is required.  Micronor maintains regional sales, service, engineering, and manufacturing facilities in both California, USA and Switzerland.



CONTACT INFORMATION:

Dennis Horwitz

Vice President, Sales & Marketing

Micronor Inc.

900 Calle Plano, Suite K

Camarillo, CA  93012 USA

TEL: (805) 389-6600

FAX: (805) 389-6605

EMAIL: dennis@micronor.com

More from Software