Fiber-Optic Laser Encoder enables multi-axis positioning.
Press Release Summary: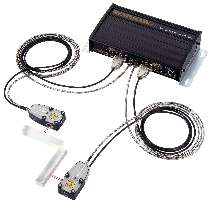 Model RLE10 delivers interferometer-based, nanometer positioning accuracy to multiple axes from single remote laser source. Available in configurations for linear or planar applications, system can be applied to axis lengths up to 4 m. Encoder can provide either 2 different selectable-resolution, RS422-format, digital quadrature outputs, or both analog 1 Vpp sin/cos signals and digital output quadrature output simultaneously.
---
Original Press Release:

New RLE10 Fiber-Optic Laser Encoder Delivers Multi-Axis, Interferometer-Based Position Feedback for Wide Range of Industrial Applications


Innovative design enables multi-axis positioning from single laser source and avoids optical path complexity, while simplifying alignment and installation

December 2003 - Renishaw's new RLE10 fiber-optic laser encoder delivers interferometer-based nanometer positioning accuracy to multiple axes from a single remote laser source. The innovative design simplifies equipment design and elevates precision, while providing ease of installation comparable to traditional tape- and glass-based encoders. The multi-axis laser produces feedback signals of high resolution and ultra-high linearity. Innovative design reduces laser alignment to a simple "bolt down and dial-in" process.

Available in a number of configurations for either linear or planar applications, the versatile system can be applied to axis lengths of up to 4 meters. Applications for the system include semi-conductor and flat panel display manufacturing equipment, fiber-optic alignment machines, machine tools, coordinate measuring machines, precision gauges, X-Y stages, glass grinding machines, and other precision motion systems.

The multi-axis RLE10 uses fiber-optic links to deliver the laser beam directly to each axis measuring position from a single remote laser source. This provides key advantages over other laser systems:
o Significantly reduces optical path complexity, simplifying alignment and installation. Only one external optic is required.
o Keeps the heat from the laser away from the measurement axis, reducing thermal drift.
o Eliminates need for beam benders and associated complex beam paths, resulting in minimal installed footprint.

Uniquely, the RLE10 has the ability to provide either two different selectable-resolution, RS422-format, digital quadrature outputs, or both analog 1Vpp sin/cos signals and a digital output quadrature output simultaneously.

Resolutions to 10nm are available via the real time digital quadrature outputs, with nanometer levels obtainable via external interpolation of the analog signals. Used in combination with an optional real-time compensation system, positional accuracy levels of 1 ppm (1µm/m) can be achieved over a wide range of environmental conditions.

Reducing complexity, the Renishaw system features a compact, low-power detector head that houses the interferometer, reference path optics, fringe detection and beam-steerer.

For more information on the performance capabilities and application advantages of the RLE10 Remote Laser Encoder and other Renishaw encoder products, contact Howard Salt, business manager- encoder systems, Renishaw, Inc., 5277 Trillium Boulevard, Hoffman Estates, IL 60192. Phone 847-286-9953; fax 847-286-9974. Email: howard.salt@renishaw.com.

For a detailed look at other productivity enhancements for metrology, linear and rotary position feedback, and machine tool calibration, visit Renishaw's web site at: www.renishaw.com


More from Controls & Controllers