Fiber Optic Illuminator brings sustainability to microscopes.
Press Release Summary: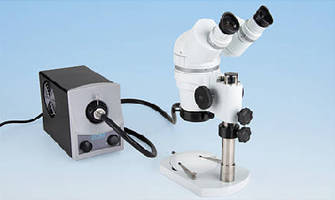 Featuring 6 x 4.75 x 9 in. footprint, LuxPro LED Fiber Optic Light System is suitable for mounting and stacking in constrained areas. Illuminator is equipped with standard 0.625 in. light guide fitting and provides consistent cool white color temperature of 4,500 K. Operating from 96–264 Vac, LuxPro features linear light intensity control with continuous dimming, and advanced heat pipe technology that uses metal core PCBs. Unit accepts virtually any light guide with quick change adapters.
---
Original Press Release:

Titan Tool's New "LuxPro" Fiberoptic Light System Brings Sustainability to Borescope and Microscope Illumination



Titan Tool Supply, Inc., Buffalo, New York has introduced a new fiberoptic illuminator that brings sustainability, performance, efficiency and convenience to users of illuminated borescopes and microscopes.



Following extensive, in-use testing of its new LuxPro LED Fiberoptic Light System, Titan Tool President, Frank Menza, points to these findings:



Sustainability – the LuxPro offers a complete payback in less than two years compared to quartz halogen fiberoptic illuminators and a continued return on energy costs, bulb replacement and maintenance costs in replacing lamps.

Efficiency – the LuxPro exceeds the brightness of a 150-watt halogen bulb while reducing energy consumption by approximately 50%.

Performance – the LuxPro illuminator offers optimal thermal management to maximize reliability and optical performance of most borescopes and microscopes.

Convenience – the maintenance-free LuxPro's LED has a guaranteed bulb life of 25,000 hours, although 50,000 hours is typical, eliminating the inconvenience of spending a total of 2 ½ hours annually replacing quartz halogen lamps.



The new LuxPro illuminator features linear light intensity control with continuous dimming and accepts virtually any light guide with quick change adapters, the company states. It provides consistent color temperature (cool white 4500 K) and is equipped with a standard 0.625" light guide fitting (nosepiece). Since Titan Tool can supply an adapter for virtually any size diameter fiberoptic cable from 0.187" to 1.0" (including Fostec 0.718" and ACMI), customers can use their current fiberoptic guides and ring lights.



Advanced heat pipe technology of the LuxPro uses metal core PCBs, and precision-engineered cooling provides quiet operation. The lightweight (7 lbs./3.2 kg) unit has rugged housing and a small footprint of 6" H x 4.75" W x 9" D (15.2 cm H x 12.1 cm W x 22.9 cm D) suitable for mounting and stacking in constrained areas. A universal power source connector enables worldwide operation from 96-264 VAC, 50-60 Hz.



Manufactured and tested in the USA, the new Titan Tool LuxPro LED fiberoptic illuminator features a one-year warranty and is part of a complete range of LED, fluorescent, and incandescent illuminators offered by the company, all in-stock for immediate shipment.



For more information, contact Titan Tool Supply, Inc., 68 Comet Avenue, Buffalo, NY 14216. Phone: 716-873-9907. Fax: 716-873-9998. Email: info@titantoolsupply.com.  www.TitanToolSupply.com.  For detailed product information or to download a PDF file product sheet, visit: https://www.titantoolsupply.com/productDetail.asp?id=27090&md=d&mode=showDetail



Please address reader service inquiries at the above address to:

Frank Menza, President, Titan Tool Supply, Inc.

Email: info@titantoolsupply.com