Fiber Optic Field Spectroradiometer is built for remote sensing.
Press Release Summary: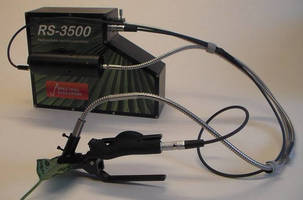 Sealed to resist dust/dirt/moisture ingress, portable RS-3500 does not require sample prep and enables in-field, non-destructive data collection. NIR field spectrometer (350–2,500 nm) offers respective resolutions of 3, 8, and 6 nm at 700, 1,500, and 2,100 nm. Designed without any moving optical parts, rugged 7 lb unit features quick optical connect/disconnect for in-field accessory swapping, leaf clip with external data triggers and disposable white reference, and ILM-105 light source.
---
Original Press Release:

Spectral Evolution's RS-3500 Enhanced Full Range, Fiber Optic Field Spectroradiometer Built for Remote Sensing.



Lawrence, MA – The SPECTRAL EVOLUTION RS-3500 field portable spectroradiometer for remote sensing meets the needs of a wide range of remote sensing applications, and delivers the following benefits:

• Fast – rapid collection of quality data in the field

• Non-destructive – the sample remains unharmed by the measurement

• Easy – no sample prep – you get data without delay



What makes the RS-3500 a rugged field unit for remote sensing?

• Lightweight – only 7 lbs.

• No moving optical parts, sealed unit resists dust, dirt and moisture, stainless steel jacketed fiber optic cable – all make this one tough field spectrometer

• Quick optical connect/disconnect so you can swap accessories like the contact probe, leaf clip and pistol grip in the field

• Thumbscrew fiber optic cable mount for quick removal and improved repeatability

• New leaf clip with trigger and disposable white reference

• New ILM-105 light source – rail mounted to the unit

• External data collection triggers on the leaf clip and contact probe are ideal for single-user operation

• GETAC field PDA  for controlling the instrument, collecting and viewing scans, GPS, voice notes, digital pictures – all tagged to your spectra saved as an ASCII file



The RS-3500 provides autoshutter, autoexposure, and autodark correction before each new scan, with no optimization step, for one touch scanning. With no moving optics, it delivers superior field reliability.



The RS-3500 delivers the highest resolution and greatest sensitivity available in a field spectrometer for remote sensing. It provides fast, accurate analysis in situ for:

• Ground truthing hyperspectral images

• Chlorophyll and moisture analysis to identify healthy and stressed vegetation

• Agricultural analysis to prevent over/under fertilization

• Forest canopy studies

• Plant species identification

• Crop health including photosynthesis efficiency

• Soil analysis for moisture and nutrients

• Total carbon, organic carbon and hydrocarbon in soil studies

• Topsoil fertility and erosion risks

• Soil mapping and monitoring



The RS-3500 features:

• Full range NIR field spectrometer – 350-2500nm

• High resolution

- 3nm @ 700nm

- 8nm @ 1500nm

- 6nm @ 2100nm

• High sensitivity (low noise equivalence radiance)

• A range of accessories including contact probe, pistol grip, leaf clip, FOV lenses and more



For more information on the RS-3500, visit:

http://www.spectralevolution.com/portable_spectroradiometer_RS-3500.html



For information on our remotes sensing products: http://www.spectralevolution.com/portable_spectroradiometer_remote_sensing.html



About SPECTRAL EVOLUTION

Established in 2004, SPECTRAL EVOLUTION is a leading manufacturer of laboratory and handheld portable spectrometers, spectroradiometers and spectrophotometers. SPECTRAL EVOLUTION spectrometers are used worldwide for many mission-critical lab and field applications in mining, remote sensing, vegetative studies, ground truthing, environmental and climate studies, developing satellite calibrations, and more, due to their reliable, robust, rugged design and user-friendly one-touch features.



SPECTRAL EVOLUTION maintains a facility in Lawrence, Massachusetts which houses design, prototyping, manufacturing and service facilities for the instruments that it markets and sells worldwide, either through direct sales, OEM sales or through distributor agents.



Press contact

Mo Kashdan

Marketing & Sales

978-687-1833

Maurice.kashdan@spectralevolution.com



SPECTRAL EVOLUTION

1 Canal Street, Unit B1

Lawrence, MA 01840 USA

www.spectralevolution.com

More from Software