Fiber Optic Couplers/Splitters minimize bend loss. .
Press Release Summary: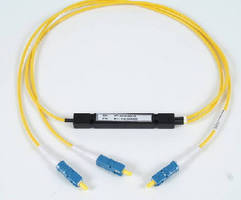 Utilizing Bend Insensitive Singlemode Glass and HLC connections, SM Fiber Optic Couplers/Splitters include all standard connector types and packages and can be customized for various split ratios and lengths. HLC SCRATCHGUARD® connection technology combined with bend insensitive glass minimizes bend loss, insertion loss, optical return loss, and endface scratching/contamination.
---
Original Press Release:

Megladon Announces SM Fiber Optic Couplers/Splitters with Bend Insensitive Glass and HLC® Connections



Austin, Texas, - Megladon Manufacturing Group announced today the release of SM Fiber Optic Couplers/Splitters utilizing Bend Insensitive Singlemode glass and HLC connections. The product family includes all standard connector types, packages and can be customized for various split ratios and lengths.

Over the past two years, there has been a growing migration to bend insensitive singlemode glass in high speed fiber optic networks. The accumulation of bend loss at various points along a link can create power budget issues. Bend insensitive fiber minimizes bend loss and reduces the overall loss.

Continued use of standard couplers/splitters in a bend insensitive glass environment can nullify the bend loss reduction. Because of space requirements, couplers may be routed in a way that causes enough bend loss to exceed the maximum loss for the channel. The migration to bend insensitive couplers/splitters is the next logical step.

Megladon's HLC SCRATCHGUARD® connection technology has been known for a decade for its durability and repeatable performance. It is a one of a kind product that enables business critical applications to operate with minimal connectivity issues. When the HLC connection is married to bend insensitive glass, the four enemies to fiber optic networks are minimized: bend loss, insertion loss, optical return loss and endface scratching/contamination.

"The market has embraced singlemode bend insensitive glass with the HLC connection and the results have been phenomenal. Many customers have now asked for the missing link in their systems which is the bend insensitive coupler/splitter. The coupler/splitter is the greatest source of insertion loss and many times bend loss due to the way it is routed. Why make the investment in bend insensitive patch cables and not upgrade the couplers?" said John Culbert, President of Megladon.

Megladon® Manufacturing Group Ltd., a subsidiary of TyRex Group Ltd.®, is recognized as a leader in the fiber optic marketplace. Founded in 1997, Megladon made it their mission to provide customers with fiber optic products that far exceed industry standards minimizing installation time and maintenance cost. As technology innovators, Megladon created the HLC® (Hardened Lens Contact) connection, which has changed the market and taken it to the next level. For additional information on Megladon and their patented processes please visit the company's website at www.megladonmfg.com.

For additional information regarding Megladon's variety of fiber optic products please contact John Culbert at 512.615.4687 or by email at scratchguard@megladonmfg.com.

More from Agricultural & Farming Products