Fiber Optic Amplifier offers sensitivity and programmability.
Press Release Summary: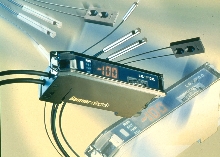 With three available settings -- high speed (HS), standard (nL), and high sensitivity (HP) -- single channel FVDK 10x69Y0 can detect objects as small as 15 micro m, and transparent objects such as glass, foil, and wafers. Its high-speed mode is suitable for fast handling processes. Sensor can distinguish contrasts when using either red or blue LED light source versions. Amplifier performs object and contrast detection, background suppression, and high-speed teach-in.
---
Original Press Release:

Multifunctional Photoelectric Fiber Optic Amplifier with Enhanced Programmability and Sensitivity


Southington, Conn. -- April 30, 2002. Baumer Electric has introduced its newest, most flexible photoelectric fiber optic amplifier designed to perform multiple functions including object and contrast detection, background suppression, and automatic high-speed teach-in. With three available settings -- high speed (HS), standard (nL), and high sensitivity (HP), the new FVDK 10x69Y0 sensor is highly multifunctional, allowing users to reduce costs by using one sensor to perform in a wide array of applications.

Offering very high resolution, the Baumer Electric FVDK 10x69Y0 single channel amplifier can detect objects as small as 15 micro m using the high sensitivity mode, as well as transparent objects such as glass, foil, and wafers. The product's high-speed mode is ideal for fast handling processes. This sensor can distinguish very fine contrasts when using either the red or blue LED light source versions.

Offering a 120 micro s response time, the FVDK 10X69Y0 is the fastest fiber optic sensor with automatic teach-in available on the market. This new multifunctional fiber optic sensor features ultra-long sensing ranges of up to 1.4m with lmm2 through beam fibers, and up to 0.5m with 1mm2 standard reflective fibers. Depending upon the sensing distance, this sensor's intelligent software automatically optimizes its resolution in a six-step pattern. Obtainable resolution is unequalled at close range (<1/25 of maximum sensing distance).

In addition to the adjustable standard on/off time delay, the FVDK 10X69Y0 allows for direct control of a sorting system by using the adjustable output pulse width function. The output pulse width can be adjusted from lms to 1 second, and will provide output pulses of identical lengths independent of object size. In many sorting processes, this function can save expensive software changes to the control system.

As a manufacturer of all types of high-quality precision sensors since 1952, Baumer Electric offers customer-oriented sensor solutions for every automation need. For more information on the new FVDK 10X69Y0 fiber optic sensor, contact Baumer Electric at (800) 937-9336, www.baumerelectric.com, or via e-mail at sales.us@baumerelectric.com.

For Technical Assistance Call: 1-800-YES-WE-DO (937-9336)
Leading in Precision Sensing


More from Controls & Controllers