Fiber Laser One Micron Optics have low-absorption coatings.
Press Release Summary: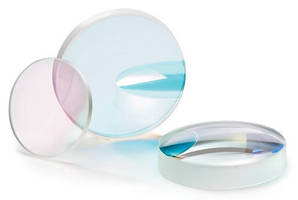 Featuring low-absorption (<50 ppm at 1.03–1.08 microns), fused silica substrates, 1 Micron Optics include lenses, protective windows, and nozzles for OEM high-power fiber laser systems. AR coatings on lenses and windows have high laser-damage threshold (>10 J) for extended life, while minimal absorption ensures quality cutting without thermal lensing and focus shift. With pinpoint focal length tolerance of ±0.5%, Fiber optics suits all 1 micron applications in 1,030–1,080 Nm range.
---
Original Press Release:

Mate Laser Technologies Introduces 1 Micron Optics For High Power Fiber Lasers - Feature Superior Lens Coating with Low Absorption



Anoka, Minnesota – Mate Laser Technologies introduces 1 Micron Optics for high power fiber lasers. These products include lenses, protective windows and nozzles for leading OEM brand laser systems.



Mate's 1 Micron Optics feature extremely low absorption, fused silica substrates. The low-absorption anti-reflective coatings on the lenses and windows have a high laser-damage threshold for extra long-life. The low absorption feature ensures the highest cutting quality without the thermal lensing and focus shift that can reduce cutting speed and quality.



Mate's line of fiber optics is applicable for all 1 micron applications in the 1030 – 1080 Nm range with ultra-low absorption (<50 ppm at 1.03 – 1.08 microns), a pinpoint focal length tolerance of ±0.5 percent and laser damage threshold higher than 10J.



Approved for use in leading brand fiber laser systems, the superior coating and low absorption fused silica UV grade lenses and mirrors make these the best performing optics. Mate's high reflection laser mirror coating maximizes reflection, improving performance that prolong product life and deliver superior cutting quality.



Mate's also offers UV-grade fused silica windows, used as debris shields to protect the 1 micron lenses, along with a complete line of copper/chrome nozzles. Mate's fiber laser consumables are available for Amada, Cy, Cincinnati, Mitsubishi, Precitec, Prima, Salvagnini and Trumpf laser systems. Mate's 1 Micron Optics are available now online 24/7 at www.mate.com/laser.



Mate is your One Source™ for laser consumables,  precision punch press and press brake tooling. All Mate products are backed by Mate's 100 percent satisfaction guarantee.



For more information, in USA and Canada call 1-800-328-4492. Outside USA and Canada, call 1-763-421-0230. Email: marketing@mate.com.



MATE PRECISION TOOLING

1295 Lund Boulevard

Anoka, Minnesota 55303 

USA and Canada

Fax 1-800-541-0285



Outside USA and Canada

Fax 1-763-421-0285. 

Website: www.mate.com

More from Software