Fiber Laser engraves and marks coated/uncoated materials.
Press Release Summary: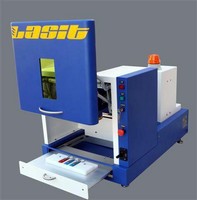 Measuring 546 x 800 x 634 mm, LaserTab® fiber laser marking system features motorized Z axis with 15¾ in. travel that marks components from 0-150 mm thick. System includes laser, galvo scan head, computer, joystick, and FlyX® and FlyCad® software. Cabinet has manual door with Class I inspection glass to view product being marked. FiberFly and FlyAir lasers can be integrated into self-contained, air-cooled system which operates with 110 V household power source.
---
Original Press Release:

New Portable Desktop Fiber Laser Marking System with Instant Focus and Rotary Axis for Cylindrical Parts



Branford, CT - January 23, 2008 - Lasit, USA proudly introduces its newest generation LaserTab®, a compact, desktop Fiber laser marking system with a motorized Z axis with 15¾ inch travel. The fully enclosed Class One system comes complete with a fiber laser, galvo scan head, computer, and FlyX® and FlyCad® software that supports both vector and raster engraving of graphics, logos, alpha-numerics, barcodes, 2D Data Matrix, and serialized numbers on plastics and metals. The software also includes diagnostic capability for remote troubleshooting.

Fully air cooled, service-free, and the highest reliability virtually eliminates the need for any maintenance. A low voltage power source with increased power efficiency up to 50% reduces operating costs, making this a cost effective laser for any business. Its compact footprint makes this a portable marking system designed for harsh industrial environments.

The motorized Z axis with encoder provides for marking of components varying in thickness from 0 to 150mm. The joystick allows for instant and simple focus. The marking of a small series of parts is much more convenient due to a very useful drawer that allows the load-unloading without having to open the door. The wide cabinet has a manual door with a Class I inspection glass that offers a clear view of the product being marked. Movement of the Z axis can also be carried out effortlessly with a joystick which- an indispensable instrument if used together with the Smart Focus system.

The Smart Focus is a unique system which generates an image for focus control. This system is much more convenient and accurate than the traditional older technologies based on the convergence of two laser pointers. The operator can easily and instantly find the optimum marking position for both flat surfaces as well as parts with complex geometries. The possibility of using software to control the intensity of the focusing image makes it ideal for use both on components that reflect (chrome plating, polished stainless, and ground surfaces) and on those that absorb (black plastic, dark oxidized aluminum). A rotary C axis for marking of cylindrical parts, can be optionally integrated. This workstation is fully self contained and both FiberFly and FlyAir lasers can be integrated. It operates with conventional 110 household power source and does not require any external cooling. FlyCAD operating software can be run under modern Windows versions and a simple network connection is all that is needed to control the Laser.

Features & Benefits

Class I enclosure for safe laser operation with interior light and vacuum exhaust port
Manual door with laser safety window for parts viewing
Drawer for easy loading/unloading (without opening the door)
150mm motorized and PC controlled Z-axis for focus/part height adjustment
PC controlled C-axis for cylindrical marking (optional)
HP computer with LCD monitor and FlyCAD operating software

Technical specifications

Dimensions (LxDxH) 546x800x634mm Z axis Corsa 150mm controllata da PC

Extraction system (optional) External with active carbon filter

Operating system Windows®XP Application software FlyCAD

A 25 mm stainless steel cable provides a jacket for the fiber cables, eliminating the risk of accidental breakage of the fiber and providing protection against electromagnetic interferences.

The system is available with a full range of lasers including Fiber, Vanadate, C02, and Green. Spot sizes can be customized for applications, with the smallest spot providing micro-machining capability of alpha-numerics on parts the size of an eyeglass or medical implant screw.

High speed and accuracy make the Lasit marking system the ideal laser for engraving and marking coated and uncoated materials such as brass, titanium, stainless steel, chrome, carbide, nickel, aluminum, plastics graphite, marble, rubber, ceramics, textiles, paper, leather and other materials. Lasit, USA now provides systems to many industries for traceability, UID, DPM, and deep engraving benefiting the military and defense, aerospace, automotive, medical, tooling, textiles, and other industries.

All lasers are available for OEM factory applications for in-line production with on-the-fly applications and built-in I/O for integration.

For more information on how Lasit, USA's laser marking systems can make your applications easier, visit us at www.LasitUSA.com.

About Lasit USA
Lasit USA has produced lasers and laser marking systems since 1990. A subsidiary of the El.En Group based in Italy, Lasit USA focuses on continuously improving laser marking for industries such as aerospace, automotive, medical, electronic and tooling.

Contact
Robin Barbero
VP Sales and Marketing
(508) 528-2542
Robin.barbero@lasitusa.com
www.LasitUSA.com

More from Electronic Components & Devices