Fiber Laser Cutting System offers ±0.05 in. position accuracy.
Press Release Summary: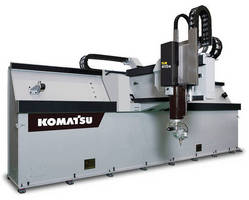 Cantilever-style TLH models offer control system and teach pendant for facilitated operation. With optimized readability and touchscreen activation, 06R controller accelerates processing. Teach pendant, along with 0.5 sec response time, has ergonomic design and automatic shut off safety feature that initiates if one of 2 required hands is removed from unit. Both models TLH-414N, with shuttle pallet system, and TLH-408N, with 110 in. dia rotary table, offer cutting speeds to 1,575 ipm.
---
Original Press Release:

Komatsu Announces Advancements to NTC TLH Fiber Laser Cutting System



New features add to ease of operation, faster processing times and operator comfort



Komatsu, has announced advances made to its NTC TLH Series fiber laser processing systems. The cantilever-style TLH models now offer a new control system and teach pendant to allow for easier operations and use. The controller, labeled 06R is an upgrade from the previous proprietary 05R NTC controller. The new controller provides easier to read screens with touch screen activation leading to faster processing times.



The new teach pendant response time has improved from two seconds to a half second, is ergonomically advanced for operator use and provides a safety interface to ensure that two hands are on the pendant with automatic shut off should one hand be removed. The TLH also comes with a new color scheme for a contemporary look and new Komatsu badging.



The TLH Series features two models: The TLH-414N a shuttle pallet system and the TLH-408N with a 110" dia. rotary table. Cutting speed to 1,575 in/min (40,000mm/min) can be achieved and the series features an IPG fiber optic generated and beam delivery system with 3kW power option.



The fiber laser series has been shown to achieve processing times two to three times faster than traditional CO2 and provide significant savings in operating costs. It is ideal for hot stamping applications and high speed cutting of thin gage mild steel, aluminum or stainless steel up to ¼ in. ( 6 mm).



Depending on the model, the TLH series provides X, Y and Z axis travel up to  177 in. (4500mm), 45 in. (1150mm) and 20 in. (500mm) respectively with positioning accuracy of within ±0.05/500 mm (±0.002"). Combined with its controllable optical head angles of +720o on the C axis and rotation of  +135o, on the A axis, the TLH models can operate in virtually all cutting applications.



The series provides two pallet options…a 4' x 8' shuttle for larger parts processing or a 110" dia. rotary table for increased flexibility and production for smaller parts and volumes. The system uses a Windows® operating environment, non-contact gap sensor technology, controllable optical head angles, and operator friendly joystick and hand-held pendant.



In addtion to the TLH Series, Komatsu' line up of NTC laser processing machines includes the TLM Series 3-dimensional, 5 axis, the TLZ Series 2-dimensional, 3-axis systems with flying optics, the TLV Series 3-axis hybrid machines for large, wide workpieces, and the TLX Series high power, 3-axis models in cantilever and gantry configurations.



Komatsu NTC America

46605 Magellan Dr.

Novi, MI  48377

Phone: Toll Free 800-NTCLASR 

248.560.1200 

Fax: 248.560.0215 

Online: www.ntclaser.com

More from Material Handling & Storage