FHRV Fiberglass Hooded Roof Ventilator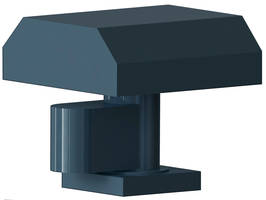 Continental Fan's FHRV Fiberglass Hooded Roof Ventilators are ideal for corrosive environments or contaminated air stream applications.
The FHRV features an FRP airfoil axial impeller, which has factory set blade pitch for precise performance matching. The rugged fan housing with hood is constructed of UV inhibited Hetron 99 P polyester resin, with Class I flame spread of 25 or less. FHRV roof ventilators are available in diameters from 12" through 60", in either direct drive or belt drive configurations, with capacities ranging to 60,000 cfm.
FEATURES & BENEFITS
• Available in direct or belt drive configuration
• FRP airfoil impeller
• Aerodynamically efficient performance
• 316 stainless steel shaft and hardware
• FRP motor cover
• FRP hood
• Extended lube lines
• EPDM double lip shaft seal
• 100 C / 212 F max. operating temperature
• TEFC industrial duty motors
• Capacities to 60,000 cfm
• Sizes range from 12" to 60"
Continental Fan provides unique fan designs that are quiet, efficient and performance driven.
The FHRV Fiberglass Hooded Roof Ventilator, a better AIRFLOW solution from: CONTINENTAL FAN ......better AIRFLOW by DESIGN™
For more information contact Ken Grimes, or visit us on the web to view our full line Fiberglass Fans.
USA - Continental Fan Manufacturing Inc.
203 Eggert Road, Buffalo, NY 14215
T: 716-842-0670, 800-779-4021
F: 716-842-0611
CANADA – Continental Fan Canada Inc.
12-205 Matheson Blvd E, Mississauga, ON L4Z 3E3
T: 905-890-6192, 800-779-4021
F: 905-890-6193
Contact:
Ken Grimes
Continental Fan Manufacturing Inc.
T: 800-779-4021 Ext: 303
F: 716-842-0611
More from Packaging Products & Equipment