Ferrous Traps use ceramic or rare earth magnets.
Press Release Summary: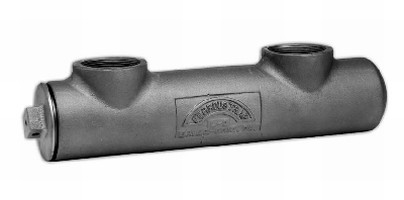 Built for 2 in. pipelines, ProGrade® Model L Ferrous Traps are designed to remove ferrous contaminants in operations where conditions are not too severe. Units feature non-sanitary cast bronze construction and can withstand pressures up to 150 psi. Ceramic powered separators remove small ferrous contaminants such as steel chips, hex nuts, and washers, while separators powered by Rare Earth magnet are best at removing weakly magnetic fine ferrous contamination.
---
Original Press Release:

Eriez' ProGrade® Model L Traps Offer Exceptional Protection at an Affordable Price



Erie, Pa. - Eriez' new, economical ProGrade® Model L Ferrous Trap is designed to effectively remove ferrous contaminants in operations where conditions are not too severe. It is built for 2-inch (51 mm) pipelines; standard reducers can be used to adapt it to lines as small as 1/2-inch (13 mm).

The ProGrade Model L Ferrous Trap features non-sanitary cast bronze construction. It is capable of withstanding pressures up to 150 psi (10.5 kg/sq cm).

Model L Ferrous Traps are offered in two degrees of magnetic strength, Rare Earth or Ceramic. Ceramic powered separators are designed to remove small ferrous contaminants such as steel chips, hex nuts and washers. Separators powered by ProGrade Rare Earth magnet material are best at removing weakly magnetic fine ferrous contamination.

Most Eriez ProGrade products are in stock and ready to ship. Customers can order ProGrade products Online at www.eriez.com/Products/Prograde/

Eriez is recognized as world authority in advanced technology for magnetic, vibratory and inspection applications. The company's magnetic lift and separation, metal detection, x-ray, materials feeding, screening, conveying and controlling equipment have application in the process, metalworking, packaging, recycling, mining, aggregate and textile industries. Eriez manufactures and markets these products through eleven international facilities located on six continents. For more information, call toll-free (888) 300-ERIEZ (3743) within the U.S. and Canada. For online users, visit www.eriez.com or send e-mail to eriez@eriez.com. Eriez World Headquarters is located at 2200 Asbury Road, Erie, PA 16506.

Contact:

Keith Jones, Eriez

kjones@eriez.com

More from Cleaning Products & Equipment